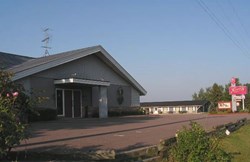 Neillsville, WI (PRWEB) February 20, 2014
Wisconsin-based Micoley.com, a leader in online real estate auctions, is auctioning off a genuine piece of Wisconsin culture this month: one of the most beloved old supper clubs in Clark County. Even if it doesn't keep to its roots under new ownership, Fannie's Supper Club & Motel will always be a part of the property's history.
The Micoley.com auction for February includes a huge number of properties of all kinds. There are tracts of undeveloped land, single family homes, and more. This event, number 2000, will occur on February 22 starting at 11:00 a.m. central, and auctions will start ending at 2:00 p.m. Opening bid for Fannie's Motel & Supper Club is set at $375,000, well below the property's original list price of $499,900.
To those who aren't from the midwest, or indeed aren't from Wisconsin, a supper club may not be part of their cultural lexicon. Wisconsinites feel right at home in them, however, and pine for them when they're away from their state for too long. These supper-only restaurants (historically Fannie's has opened at 4:00 p.m.) aren't exclusive clubs, but named that way to distinguish them as spots to get Wisconsin comfort food and drink, including ribeye steaks and midwestern-style cocktails, prepared in the traditional way, with a friendly, personal touch.
Fannie's has a rich history, with locals making reservations, and coming to consecutive Saturday dinners sometimes for decades. Typically, not much changes with time in restaurants like these, and locals like it that way. But with a valuable property like this, that's not always the case.
The 7,200 square foot restaurant that houses Fannie's features more than history. There's a modern kitchen with all the amenities necessary for any kind of restaurant, but this property features much more than that. A 960 square foot upper apartment is also there on site, perhaps for a manager. This 5.5 acre parcel piece of land also features an entire 12-room motel, feeding nightly business to the supper club itself. Then, to top it all off, there is a 1,500 square foot, 3 bedroom home, with a four-car garage for the owner.
To become the proprietor of such a company and residence is a fantasy business or retirement plan for many Wisconsinites, or out-of-state settlers! Set up shop with the restaurant of your dreams, or keep the traditions of Fannie's going into the future. Either way, this is an unmissable opportunity that won't last.
Bidding for this property will begin online on February 22 at 11:00 a.m. central time, but Micoley.com attracts significant attention in the real estate world. Early offers and bids may be entertained, so potential bidders are advised to register and gather information as soon as possible.
Interested parties should visit micoley.com to find more photos and details about the property, or by visiting in person and performing an inspection on site, which is highly recommended. 1-866-371-3619 is Micoley.com's information line. Additionally, Micoley.com features a live chat service through which questions can be answered.
About Micoley:
Green Bay, WI-based Micoley.com is a real estate marketing firm specializing in project focused auctions of bank-owned properties throughout the United States. The Micoley approach to real estate marketing tailors each auction plan to the client's individual needs. The site is constantly being updated for the benefit of buyers, as large scale auction events are held monthly, and new properties are added daily. Auctioneer Firm: Micoley.com #432-53. Registered Wisconsin Auctioneer: Wade T Micoley #2647-052. Broker: Wade T Micoley #43427-90.