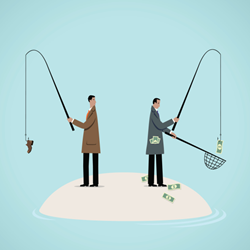 Why are your local competitors beating you out?
Seattle, WA (PRWEB) March 12, 2015
The recent article from Fannit.com speaks to local business owners and CEOs that are sick and tired of their competitors beating them out in rankings on search engine pages.
"When you see a local competitor beating you out in the SERPS, it is natural to wonder why — what are they doing that is so successful? What strategies are they employing that you are not?" Fannit commiserates. But they also offer a possible solution.
"Chances are, what they have that you are lacking is a solid local SEO service that is getting them local citations so that they rank in what we fondly refer to as the Local 7-Pack," Fannit says.
Their article goes on to explain the theory behind their statements, showing business owners and marketing managers how utilizing local citations to move businesses into what they refer to as the 'Local 7-Pack' can help those businesses see quicker and bigger returns on their marketing investments. The 'Local 7-Pack' is the grouping of local businesses that appear near the top of search engine pages after a query has been searched. Google offers these local businesses as options for the searcher based on relevance and website authority.
Their article goes on to detail their process for developing these all-important local citations, including suggested tools to use and sites that may be good to build out citations from. Additionally, they also give common issues that will arise and questions that will be asked during the local citation build, with some helpful advice on how to resolve them.
How long will it take to beat out a competitor? Fannit says that this ranges on a number of factors, including the field or industry, as well as how much time is devoted to the task. They also point out that the best results are not just from local citations alone, but a blending of content marketing, on-site optimization, review management, backlink development, and press release.
"It's entirely possible that you could get your website ranked on your own or with a small team, but you need to consider the fact that this is probably going to be a part time job for you," Fannit warns business owners that are hoping to handle local citations themselves.
For those who are interested in having Fannit help them out with this niche area of marketing services, visit their website to learn more: link to LP
About Fannit
Fannit.com is a full service internet marketing agency that helps companies increase their online presence through engaging and well placed content. They service Seattle area and U.S. based companies with Content Marketing, SEO, PPC, E-mail, Press Releases, and Conversion Rate Optimization.
Fannit
2911 Hewitt Ave
Everett WA 98201
425-359-7989