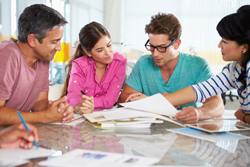 Successful marketing strategies don't just happen. They are developed.
Seattle, WA (PRWEB) January 30, 2015
As marketing continues to change and develop, it is easy for CEOs to lose touch with their marketing teams and strategies. The latest article from Fannit discusses 4 essential elements that CEOs need to be aware of regarding the development of the SEO and inbound marketing strategies.
One of the top things CEOs need to keep up on is who they need on their inbound marketing team. As marketing continues to evolve, different roles and positions have become more complicated, requiring experienced individuals to fill those roles. The article takes a closer look at a few of these roles, and suggests the use of an external team to lower costs and increase the chances of long term success.
The article also discusses the importance of taking the time and effort necessary to thoroughly research a business and create a marketing strategy. Fannit says that, "Successful marketing strategies don't just happen. They are developed and created over time through careful analysis and proper preparation." All that must be analyzed and decided upon is further discussed in the article.
CEOs are further encouraged to keep themselves up to date about how much effort is going into their marketing endeavors. The article says that, "Successfully walking out a pre-planned marketing and SEO strategy is not easy. It takes consistent amounts of work over long periods of time." CEOs can be intentional about participating in these efforts through several means.
Fannit is an inbound marketing agency that partners with business to achieve optimal marketing and SEO results. For more information about their business and services, visit their website at http://www.fannit.com.
About Fannit
Fannit.com is a full service internet marketing agency that helps companies increase their online presence through engaging and well placed content. They service Seattle area and U.S. based companies for content development, SEO, PPC, E-mail, Press Release, and Website Funnel Optimization.
Fannit
2911 Hewitt Ave
Everett WA 98201
425-359-7989