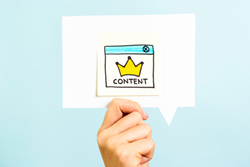 "Businesses must be intentional in a space that's growing increasingly competitive. It's not enough to simply 'be'."
Seattle, WA (PRWEB) April 01, 2015
In a field that has experienced so much growth and change over the past several years, developing a successful inbound marketing strategy can be a difficult task.
To provide clarity and information, the latest article from Fannit lists 7 actionable steps that marketers can take to develop a successful blog strategy that will help their business grow and expand.
Fannit states in the article that, "Businesses must be intentional in a space that's growing increasingly competitive. It's not enough to simply 'be'."
The first step marketers can take is to understand the purpose of their business. While it may seem trivial, Fannit states that understanding a company's purpose, story, and goals will make a serious impact on that businesses ability to communicate with customers through the content they release.
The second step is for marketers to investigate how well they and their team understand their audience. A solid grasp of the ideal buyer can help marketers to tailor their content to match the needs of their clients.
The fourth step to creating a successful blog marketing strategy is to understand the content's rankings. Fannit states that, "You should have a list of where you want to go for rankings." These goals will help marketers to tailor their blog content to rank for keywords their ideal buyers would search for.
The remaining steps in the article give detailed information on how marketers can learn to understand and promote their content, manage their workload, and achieve even greater results.
Fannit offers web and content development services to businesses looking to expand and succeed in their inbound marketing endeavors. For more information, visit their website at http://fannit.com/inbound-marketing/.
About Fannit
Fannit.com is a full service internet marketing agency that helps companies increase their online presence through engaging and well placed content. They service Seattle area and U.S. based companies for content development, SEO, PPC, E-mail, Press Release, and Website Funnel Optimization.
Fannit
2911 Hewitt Ave
Everett WA 98201
425-359-7989