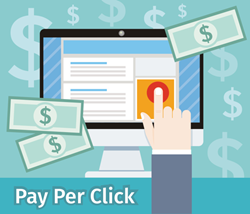 Lack of understanding about the benefits of PPC can make businesses lose out on excellent leads and increased revenue.
Seattle, WA (PRWEB) February 10, 2015
Designed to help CEO's and marketing managers understand the benefits and processes of a pay-per-click (PPC) campaign, Fannit's latest article gives an overview of everything PPC.
"There can be a lot of confusion among business owners about the value of PPC," says Fannit, "And, unfortunately, this lack of understanding can cause businesses to miss out on what would otherwise be a great way to boost leads and increase revenue."
The article begins by explaining how pay-per-click works. In short, businesses can bid for placement at the top of a search engine page. Whenever the ad is clicked, they are charged the bidding amount. Businesses can, in this way, buy visits to their website from Google. Depending on how valuable customers are, what their conversion rate is, and the cost per click, it can be very lucrative.
To help CEO's get a grasp of the level of complexity and involvement that should go into a PPC campaign, Fannit's article gives the four steps that are involved in the creation of a good campaign.
Fannit offers PPC management services for businesses throughout the Pacific Northwest that are seeking to expand their marketing success. Contact them today to discuss their PPC management services.
First of all, the campaign starts with keyword research. The article gives a lot of emphasis on this, calling it, 'the foundation of the campaign.' Once a list of successful keywords is created, a PPC manager must next begin construction of the ads themselves and the landing pages to which they will direct traffic. Having these ads and landing pages optimized for Conversion Rate Optimization (CRO) and the business's buyer personas is vital to a good campaign.
Fannit also explains the many benefits of a good PPC campaign — the positive ROI, increased brand awareness, agility and flexibility in marketing strategies, and more. Of course, to be so successful, an experienced and skilled PPC manager will be necessary.
About Fannit
Fannit.com is a full service internet marketing agency that helps companies increase their online presence through engaging and well placed content. They service Seattle area and U.S. based companies with Content Marketing, SEO, PPC, E-mail, Press Release, and Conversion Rate Optimization.
Fannit
2911 Hewitt Ave
Everett WA 98201
425-359-7989