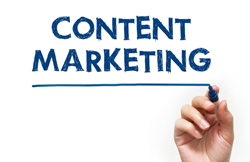 The fifth, and most important, reason that content marketing is a potentially high ROI strategy is the fact that, "Content marketing is one of the few ways to reach Millennials."
Seattle, WA (PRWEB) July 10, 2014
"Content marketing and outbound sales strategies are often pitted against each other, like brutish, bloodied boxers waiting for the bell," says Lauren Frye, Content Marketer at Fannit, an internet marketing agency serving the Greater Seattle Area.
"I would suggest that we take the strengths of both and pit them against the real problem – doing business successfully in a competitive world," she expounds.
For CEOs, marketing managers, and business consultants who are curious about the ROI results of content marketing, the article reveals the top five reasons why content marketing can provide a high return on investment for businesses operating in our overtly digital world.
To download the free eBook from Fannit on How To Solve Your Biggest Marketing Problems, click here.
The first point of the article states that, "Content marketing can convert customers while you sleep." They proceed to explain that correctly targeted content placed on a webpage is an effective, evergreen source of marketing that can speak to visitors even after the company's sales team has left for the day.
The fifth, and most important, reason that content marketing is a potentially high ROI strategy is the fact that, "Content marketing is one of the few ways to reach Millennials."
Lauren Frye expounds on this statement, saying, "Millennials accomplish most of their buying process before you even know that they're interested. According to the Buyer Persona Institute, 'Today's buyers have changed the rules, navigating 60% to 80% of their decision before they talk to a salesperson.'"
According to the article, if a business wants to be considered within the first 60-80% of a consumer's buying process, content marketing is a key avenue of connection with the modern-day customer.
About Fannit
Fannit.com is a full service internet marketing agency that helps companies increase their online presence through engaging and well placed content. They service Seattle area and U.S. based companies with inbound marketing, content development, SEO, PPC, E-mail, Press Release marketing, and Website Conversion Optimization.
Fannit
2911 Hewitt Ave
Everett WA 98201
425-359-7989