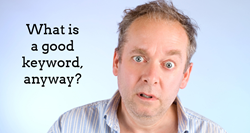 Fannit begins by addressing the fact that there are various definitions of the term 'good keyword.'
Seattle, WA (PRWEB) April 08, 2015
Picking keywords is not an easy task, especially for businesses that are struggling to coordinate and combine the many different facets of an effective inbound marketing campaign. In their latest article, Fannit offers businesses a way to analyze and select keywords that will be the most beneficial and productive for the business's marketing goals.
Fannit begins by addressing the fact that there are various definitions of the term 'good keyword.' These various definitions come from three different working areas of inbound marketing. The article begins by giving a brief analysis of what the term 'good keyword' means from the perspective of each of these three areas: SEO, PPC, and CRO.
According to Fannit, the SEO expert focuses most of their efforts on finding keywords that rank well and expend less effort on developing a list of keywords that are based on user relevance. The article states that, "What matters to an SEO expert is rankings, which should result in lots of high volumes of quality traffic."
The relationship between SEO and PPC appears to be more quantity vs. quality. Contrary to SEO, the PPC expert focuses on selecting keywords that match general buyer intent. The conversion ratio and ROI is what really matter to them.
Following a comparison of the Conversion Rate Optimization Expert to the SEO, CRO and PPC experts, Fannit reveals the one best approach that unites all three of these areas with a common purpose. This common goal enables all three areas to combine their efforts and get the most out of their inbound marketing.
For more information about inbound marketing and about the marketing tools and services that Fannit provides to businesses, visit their website at http://www.fannit.com/inbound-marketing/.
About Fannit
Fannit.com is a full service internet marketing agency that helps companies increase their online presence through engaging and well placed content. They service Seattle area and U.S. based companies for content development, SEO, PPC, E-mail, Press Release, and Website Funnel Optimization.
Fannit
2911 Hewitt Ave
Everett WA 98201
425-359-7989