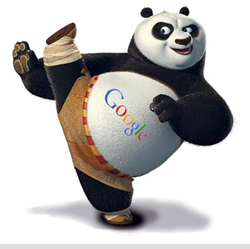 Google Panda was created with the sole purpose of weeding out 'thin' website content.
Seattle, WA (PRWEB) June 03, 2014
The consternation felt across the internet marketing world on May 21st was ignited by a simple Twitter update. Matt Cutts, head of Google's WebSpam team, announced that they had rolled out Google Panda 4.0.
Because of limited official information about the update from Google, Fannit.com's marketing team dedicated time to assess the effects of the Google Panda 4.0 update, and what it means for businesses and internet marketers.
In the article, Fannit briefly reminds their readers of the purpose for the original Google Panda algorithm— "This particular Google update was created with the sole purpose of weeding out 'thin' website content. The update primarily affected those companies marketing with spammy content that was highly duplicative and mostly unoriginal. This latest update will do the same."
Since the initial Google Panda was installed, they note that the ongoing 'rolling' monthly updates to the Panda algorithm have served to further hone this updates impact by creating greater and more targeted restrictions in regard to website content. Interestingly, Fannit suggests that this latest update seems to have been designed to assist the small business owners, showing a softer and gentler side of the Panda algorithm.
Of course, some sites are still getting hit hard by Panda 4.0. Fannit states that the latest update appears to have been expanded to more closely evaluate press releases, a common culprit of poor quality content, and catch those websites that escaped prior penalties, or have failed to make adequate changes to their website content.
"Rather than focusing on the impact of the Google Panda 4.0 update," Fannit suggests to other 'white hat' internet marketers, "we recommend focusing on good promotion – implementing internet marketing services that provide genuine value to your potential clients and audience.
This is the sort of content that Google actually wants ranking in their search engines. These are the strategies that Google rewards."
About Fannit
Fannit.com is a full service internet marketing agency that helps companies increase their online presence through engaging and well placed content. They service Seattle area and U.S. based companies with inbound marketing, content development, SEO, PPC, E-mail, Press Release, and Website Conversion Optimization.
Fannit
2911 Hewitt Ave
Everett WA 98201
425-359-7989