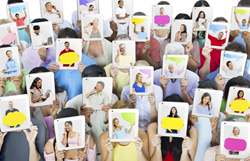 "People don't join social media to be bombarded by advertisements and sales pitches. It is important you know who your followers are and what they want to see."
Seattle, WA (PRWEB) April 02, 2015
Social media is being used more and more by successful businesses as a productive marketing platform. Because of this, businesses should be working harder than ever to include social media marketing in their inbound marketing strategy.
To help businesses ensure that their strategies will be successful, Fannit's latest article offers actionable tips on how to generate leads through effective social media marketing.
Fannit's top tip is for marketers to know their audience and to give them what they want. The article says, "People don't join social media to be bombarded by advertisements and sales pitches. It is important you know who your followers are and what they want to see." Fannit gives examples of what this would look like in the article.
The second tip in the article is for marketers to thoroughly educate themselves about their field and their products. By becoming an expert on their industry, marketers can set their business apart in a unique way that helps them to stand out from the competition.
A later tip encourages marketers to strategize their content release so that it is properly timed. Fannit says, "...the content a business shares is extremely important, but providing the right content at the right time is the key to lead generation."
Fannit's services as an inbound marketing agency include helping businesses to generate leads and customers with effective marketing strategies. For more information about their services, visit their website at http://www.fannit.com/inbound-marketing/.
About Fannit
Fannit.com is a full service internet marketing agency that helps companies increase their online presence through engaging and well placed content. They service Seattle area and U.S. based companies for content development, SEO, PPC, E-mail, Press Release, and Website Funnel Optimization.
Fannit
2911 Hewitt Ave
Everett WA 98201
425-359-7989