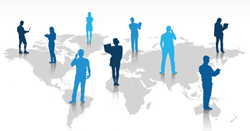 By building out your businesses local citations, you can get your website at the top of the local listings — beating out your competitors.
Seattle, WA (PRWEB) February 12, 2015
"At Fannit, part of our Local 7-Pack service is to provide high quality citations that Google views as positive signals that your business is legitimate and worthy of ranking," Fannit explains in their recently released article on why local citations are a powerful SEO strategy.
For businesses that service a specific local area, being listed in the 'local 7-pack' is an important achievement. The 'local 7 pack' is a local listing on Google, that shows results within the consumer's local area. The '7-pack' is the list of the top 7 businesses that have the most, and best, local citations and are associated with the keyword the searcher is using.
In order to rank highly in this listing, however, Fannit explains that a business will need local citations (entries of their company's name, address, and phone number) on numerous, relevant listings and websites.
In the article, they explain the importance of local citations, saying, "If all other factors were equal between two competing businesses, but one had more citations, it would almost certainly rank higher than the other business with fewer citations."
But the question still remains, how would a business acquire these citations? The article notes that business owners or marketing managers can either work at building the citations themselves, or they can hire an internet marketing firm, like Fannit.com, to establish listings for them.
To learn more about Fannit's SEO services, follow this link: http://fannit.com/local-seo-marketing/
The article concludes, saying, "These citations from trusted websites are going to be a key component for dramatically improving your local search engine rankings. Not only will you find yourself ranking higher organically (a natural side effect of great local optimization and citations), but you'll find yourself popping up in the local business listings - or what we call, the Local 7-Pack."
About Fannit
Fannit.com is a full service internet marketing agency that helps companies increase their online presence through engaging and well placed content. They service Seattle area and U.S. based companies with Content Marketing, SEO, PPC, E-mail, Press Releases, and Conversion Rate Optimization.
Fannit
2911 Hewitt Ave
Everett WA 98201
425-359-7989