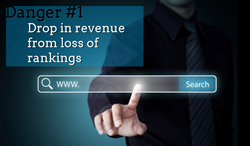 Seattle, WA (PRWEB) July 23, 2014
In the newly posted article, "Your New Website Is Killing You. Here's Why" Fannit.com guides business owners through the dangers a website redesign can pose to their company.
The first danger that their article addresses is the potential loss in revenue due to a drop in rankings. What can cause a drop in rankings? Fannit helps explain several key SEO issues behind the ranking drop.
One of the issues that they mention is that "during a revolutionary design, content will often be modified. While this can ultimately result in better content, if it isn't done correctly it will cause a drop in keyword density for the page. Additionally, if the site structure has been modified, the flow of links from other areas of the website may be blocked or reduced."
A drop in ranking on search engines is usually followed by a reduction in traffic, lead volume, and, typically, conversions. Preventing this usually requires technical SEO oversight, helping guide the redesign successfully.
Need to learn more about SEO marketing services? Contact Fannit here or give them a call and they'd be glad to help.
Their second warning regarding website redesign dangers is the 'broken backlink. They explain that during site reconstruction, urls can change. This will 'break' the backlink, and whenever a reader clicks the link to the prior url, they will meet up with the dreaded 404 error: page not found. This can also cause a loss in potential ranking juice from backlinks.
Of course, there are ways to prevent this—which is why the article simply warns businesses that if they are going to do a site redesign, technical SEO oversight is the best way to counter potential SEO issues and the revenue loss that often follows.
To know all their secrets about website redesign, you'll have to read the full story on their blog.
About Fannit
Fannit.com is a full service internet marketing agency that helps companies increase their online presence through engaging and well placed content. They service Seattle area and U.S. based companies with inbound marketing, content development, SEO, PPC, E-mail, Press Release, and Website Conversion Optimization.
Fannit
2911 Hewitt Ave
Everett WA 98201
425-359-7989