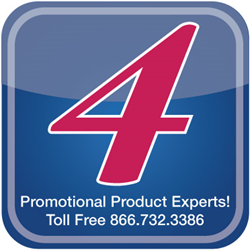 Essex, Ct (PRWEB) September 15, 2014
Are you ready for some football? The promotional product experts at 4AllPromos are ready to provide football fans everywhere with custom imprinted and promotional products to support teams, players, schools and even fantasy football teams.
Fantasy football has become and $11 billion industry with major companies such as Yahoo, CBS, ESPN and the NFL as getting into the concept. According to the Advertising Specialty Institute nearly 35 million people in the United States play on a Fantasy Football league.
So what does Fantasy Football have to do with promotional products? Players, teams, sports bars and other businesses can get in on the action by providing custom imprinted and promotional products such as t-shirts, stickers, buttons, notebooks, pens, memo boards, coasters, hats and so much more to these diehard fans.
Custom imprinted apparel, drinkware, football products and other materials needs for draft day parties or gameday parties help unify players and teams and they also help create buzz for the big game.
"We're seeing our customers get more and more creative with t-shirts and other apparel during Fantasy Football season," said 4AllPromos President, Cosmo Corigliano.
Fantasy league players can custom imprint t-shirts, sweatshirt, hats and dozens of other products with player's names. Reward or embarrass best and worst players will custom imprinted items such as buttons, stickers and other wearable items.
Need a team logo or symbol? 4AllPromos has graphic designers on staff who can help clean up or create a custom logo for or a new or existing league.
For more information on how 4AllPromos can help create the perfect Fantasy Football league season visit http://www.4AllPromos.com.
4AllPromos is a leading online provider of custom imprinted and promotional apparel, office supplies, party supplies, tradeshow items, tote bags, sport bags and more.