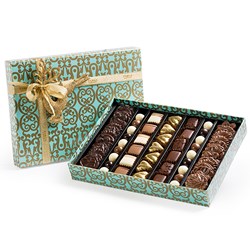 Give the Gift of Gourmet Chocolate from Barcelona
Williamsburg, VA (PRWEB) December 02, 2013
The luxurious Farga collection of chocolates is entering the U.S. market for the first time and is now available for holiday ordering online only at La Tienda. Elegantly packaged and masterfully made, each chocolate bite is an extraordinary experience.
Farga is known for both high quality chocolates and unparalleled gift packaging. Each detail is carefully considered. Elegance, creativity and distinction define this brand and are evident in each bite of premium gourmet chocolate.
Crafted by a family-owned business established in 1957, founder Jesus Farga's entrepreneurial spirit led him to Barcelona to set up his first shop. Today, over 50 years later, tradition and evolution, along with the finest ingredients, are the key components in the success of this prestigious operation.
"In our many travels to Spain seeking the finest foods, we've loved exploring the chocolate confection shops that thrive in many Spanish cities and towns. Farga Barcelona is a 'stand out' for us in terms of both incredible quality and taste," noted Jonathan Harris, President and Creative Director at La Tienda. "We are thrilled to introduce their chocolates to our gourmet food customers and to the American market."
Shop for Farga chocolate collections and other fantastic Spanish Christmas sweets here.