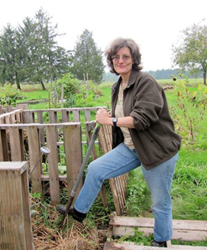 This is one of the highlights of our educational year.
Asheville, NC (PRWEB) December 22, 2014
The Organic Growers School will draw over 2000 gardeners, farmers, and foodies to Asheville for a weekend of workshops scheduled for March 7 and 8, 2015 at the University of North Carolina-Asheville in Asheville, NC. The annual event features classes for beginning backyard growers to advanced commercial farmers, plus a trade show, seed exchange, silent auction, children's program, and pre-conference, on-farm events. The largest locally-run sustainability conference in the Southeast, the cost is: $45 for Saturday, $40 for Sunday (Early Bird Registration by January 30, 2015). Registration is an additional $15 after January 30th and at the door. Register online at http://www.organicgrowersschool.org, or request a mailed registration form: meredith(at)organicgrowersschool(dot)org or (828) 668.2127.
The event, which is open to the public, provides practical, regionally-appropriate workshops on organic growing, permaculture, homesteading, urban farming, and rural living. This year's conference offers 70 sessions per day in themed tracks including Gardening, Soils, Livestock, Primitive Skills, Permaculture, Herbs, Alternative Energy, Sustainable Forestry, Homesteading, Cooking, Poultry, Farmers I and Farmers II. New tracks for 2015 include Mushrooms and Food Resilience. A complete list of the classes can be viewed on the website at http://organicgrowersschool.org/annual-spring-conference/2015-conference-schedule/.
Living Web Farms is a sponsor of the event, headlining the pre-conference activities and March 7th keynote address with special guest and world-renowned soil biologist Dr. Elaine Ingham. Over the course of the weekend, Living Web staff and partners will teach classes on composting, no-till gardening, and compost tea. "This is one of the highlights of our educational year," says Living Web Farms Director, Patryk Battle, who will teach No-Till Vegetable Gardening classes at the March event. "We feel honored to be bringing Dr. Ingham, who is a hero in the farm stewardship world."
Dr. Ingham's keynote address, "What to do About Science and Farming", will focus on the crossroads of science and holistic land management. Dr. Ingham will speak from her personal and professional experience, addressing the opportunities and challenges farmers face marrying reductionist scientific analysis with system-wide ecosystem management.
Dr. Elaine Ingham is a soil microbiologist and founder and president of Soil Foodweb, Inc., an organization that helps farmers all over the world grow more resilient crops by understanding and improving soil life. For the last 30 years Dr. Ingham has focused on the soil and its living organisms and providing sustainable solutions for maintaining soil health. She shares her knowledge in an easy to understand way and has worked with everyone from vegetable farmers, to cattle graziers, to nursery operators. Dr. Ingham earned her PhD from Colorado State University in 1981.
Meredith Leigh, who has been coordinating the conference for ten years, says "This is the first year that we are offering a keynote address at the Spring Conference. People have been asking for it and we are excited to be offering an exceptional speaker with both an international perspective and specific regional applications."
Throughout the weekend, there are also half-day, hands-on workshops with smaller numbers of participants that host regional instructions. These half-day classes cost $10 each and focus on do-it-yourself subjects:

Can-Do, Easy Canning with Nan Chase, Author
Garden Fresh Wine Making with DeNeice Guest, Author
Beautiful in your Own Skin: Crafting Herbal Skincare Products with Asia Temple, Temple Aesthetics Sacred Skin Care
The Basics of Natural Dyes with Kelly Gaskill & Lindsay Warf
Naalbiding: Primitive Fabric Making with Miranda Heidler
The Art of Making Miso with Liat Batshira, Fermentation Wizard
Getting Started in Beekeeping with Shane Gebauer, Brushy Mountain Bee Farm
Basket Making with Louise Langsner, Country Workshops
Target Archery with Alexandra Tait, Artemis Archery Asheville
Small Engine Maintenance & Repair with Janson Bowman & Shawn Swartz, Warren Wilson College
Six Inches of Soil in Six Months with Six Hundred Thousand Bugs with John Moody, Farm-to-Consumer Legal Defense Fund
Soap Making with Beth Herdman, Dancing Woods Farm
The 2015 Spring Conference will feature these exciting programs:
The 11th annual Children's Program for kids ages 7 to 12 which focuses on the importance of the environment and alternative energy sources. This supervised full-day event is open to children ages 4-12 years old, with a registration limit of 40 children. Children will explore the environment through numerous hands-on activities involving plants, animals, insects, and food. Cost is $30 per child per day.
Pre-Conference, On-Farm Workshops on Friday March 6th which is a great way for growers to add knowledge and hands-on experience. Sessions include:
Better Soil Ecology for Better Farming, with special guest Dr. Elaine Ingham
Spend the afternoon with world-renowned soil biologist Elaine Ingham who will address salient, real-life examples of soil dynamism and instructions on how to fine tune soil nutrients for specific crops. Ingham will speak and tour Living Web Farms' forced-air compost bins and compost tea operations in addition to the intensively cropped, no-till vegetable operation. Participants will hear stories about farmers who are suppressing weeds with proper soil biology as well as those using compost tea and microbe-rich methods to increase yields and suppress diseases.
Creating a Sustainable Homestead Flock of Poultry with Jim Adkins, Steve Pope, & Nathan Freeman, Sustainable Poultry Network
Learn to raise your own poultry flock at Franny's Farm where the entire process happens: breeding, hatching, growing, butchering and marketing! The class will cover everything you need to know including: identify the poultry breed that best suits your farm; learn how to brood, properly feed & grow poultry, basic husbandry, disease control, and also the basics of processing &cooking. Join these sustainable poultry specialists for the A-Z of homestead chicken farming and you'll be off and running in no time.
This event has grown exponentially, from a small gathering of 100 growing enthusiasts in 1993 to a regionally recognized conference drawing over 2000 attendees, exhibitors and speakers. "Some of our speakers, who taught their first class at OGS, are now traveling the world and teaching. All of them say that there is no other event quite like the Organic Growers School Spring Conference," says Leigh, who adds "this conference is a long-standing tradition of the very best in regional wisdom."
With an array of informative topics taught by the finest instructors in the region, the four class slots per day hardly seems like enough time to fit it all in. Thankfully some classes are repeated on both Saturday and Sunday, for more opportunity to catch the popular sessions. A sampling of classes includes: Starting Your First Vegetable Garden, Pickling in the Home Kitchen, Making Herbal Cocktails, Creative Watering for the Garden, Vermicomposting, Aquaculture, Passive Solar Design , Backyard BioChar, Organic Control of the Spotted Wing Drosophila, Useful Mushrooms of the Southern Appalachians, Food Waste, Real-life Forest Gardening and Farming, Traditional Chinese Herbal Medicine, Raising Pawpaws, Farming with Draft Horses, Permaculture for kids, and more!
As the largest grassroots conferences of its kind in the region, The Organic Growers School has served to reinforce Western North Carolina's role as a regional leader in sustainable food and farming. Attendees come from 18 states and Canada, and have described the event as a ritualistic kick start to the growing season, and even "a peeling off of winter," according to local attendee, Lara Ladendorf.
Additional long-standing traditions at the OGS Spring Conference weekend include the following:
1. The Tradeshow, which showcases a wide array of exhibitors and products: local farms, gardening suppliers, and cottage industries that specialize in organic products, books and resources for organic growers and Permaculture practitioners, and several non-profit organizations with information on related topics. (A full list of exhibitors is on the Organic Growers School website and is updated regularly.)
2. The Silent Auction, which will run on Saturday March 7th, giving participants the chance to bid on items donated by related businesses, such as organic home care, garden and farm tools, fertilizers, books, clothing, and more. Proceeds from the auction go directly to supporting Organic Growers School educational initiatives for farmers and consumers alike. Those interested in donating to the auction should contact meredith(at)organicgrowersschool(dot)org.
3. The Seed and Plant Exchange booth is open throughout the weekend and offers us the opportunity to preserve genetic diversity and protect regionally adapted varieties. Attendees may bring excess seeds and small plants to share, barter, or trade. Seed saving supplies and recommended readings will be provided.
The major sponsors of the 22nd Annual Organic Growers School are Carolina Farm Credit, with additional sponsorship support from Mountain Rose Herbs, Johnny's Seeds, Countryside Organics, Earthineer, Earth Tools, Fifth Season Gardening Co., French Broad Food Coop, Reems Creek Nursery & Landscaping, Mountain Xpress, Biltmore, Asheville Citizen Times, Chelsea Green Publishing, Brushy Mountain Bee Farm, Farm to Consumer Legal Defense Fund, Nourish & Flourish, Lenoir-Rhyne University, Useful Plants Nursery, Mother Earth News Fair, Local Flavor Asheville, IWANNA, Ashevillage, Central Carolina Community College, Nature's NOG, Blue Ridge BioFuels, WNCW, Thyme in the Garden, WNC Woman, Hendersonville Community Coop, WCQS, WNC Woman, OMRI, Organic Fest, and American Herbalist Guild.
The cost for the all-day conference is $45 on Saturday and $40 on Sunday for those who pre-register by February 1st by midnight. Registration for the Children's Program is $30. An additional $15 is charged for registration after February 1st or at the door, totaling $60 for Saturday and $55 for Sunday. Registration for the half-day hands-on workshops and cooking classes is an additional, varying fee per workshop and requires pre-registration.
The OGS Spring Conference is organized annually by the Organic Growers School INC, a 501(c)3 non-profit organization with a mission to inspire, educate, and support people to farm, garden, and live organically. Organic Growers School is the premier provider of practical organic education in the Southern Appalachians. OGS envisions a mutually supportive network of prosperous farmers, productive gardeners and informed consumers engaged in creating healthy communities.
The Organic Growers School is a 501c3 non-profit organization that grew out of the volunteer efforts of a group of farmers and extension specialists who, in 1993, gathered to discuss the need for nuts and bolts, region-specific crop growing information applicable for farmers in Western North Carolina. From this meeting, the Spring Conference was born, along with a mission to deliver practical information about organic agriculture at a reasonable price.
Interested participants may register on-line at http://www.organicgrowersschool.org, or request a mailed registration form from meredith(at)organicgrowersschool(dot)org or (828) 668-2127. Registration forms are also available at area outlets such as Earth Fare, Greenlife Grocery, other sponsor's retail stores, and area Cooperative Extension offices.
The Organic Growers School is proud to offer over 150 opportunities for individuals to attend the conference by means of a work exchange program. Persons interested in applying for work exchange/volunteer status should visit the OGS website, and fill out an application. Shifts are filled on a first come, first-served basis.
All other inquiries: Contact Coordinator Meredith Leigh at meredith(at)organicgrowersschool(dot)org or call (828) 668-2127