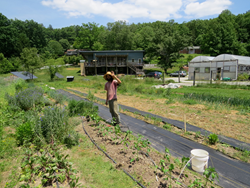 We create systems where humans can thrive, without depleting resources.
Mills River, NC (PRWEB) September 14, 2014
Jeremy Griste prefers to do everything by hand. He's the farm manager at the Mills River Educational Farm, a property overseen by Living Web Farms. The mission of Living Web Farms, a non-profit organization, is to create resilient agriculture and energy systems for a sustainable future. The main means to this mission throughout three properties in Western North Carolina is food production via ecological farming techniques, food preservation via traditional methods, intensive care of soil resources, and public education. "We create model systems where humans can thrive, without over-dependence on petroleum, and without depleting resources," said Griste. "So I'm digging weeds with a shovel. I'm mulching by hand."
As the mist begins to clear from the mountains, Griste's colleague, Meredith Leigh, emerges from the farm's spring house and records a note on a scrap of paper before tucking it into her pocket. "We're recording the humidity and temperature in the spring house at key times of day," Leigh explains, "to determine if it is a suitable environment for preserving salted meat." Leigh will discuss butchery, cooking, and preservation of pork at an upcoming workshop at the farm on September 20th.
In fact, Living Web Farms will open its gates that entire weekend, welcoming guests from throughout the region during ASAP's regional farm tour. The tour includes over 40 family farms in more than 7 counties, in an effort to link people with farmers and boost the local food economy. Living Web Farms will offer education during the tour, touching on the farms' projects from alternative energy to food security. In partnership with the Naturally Grown Project, they'll also offer educational activities for children. Finally, they'll cap it off with a feast. Leigh and the team are planning a 4-course dinner on the farm porch on Sunday, September 21st, boasting food sourced completely from the farm's bounty.
"We'll butcher a hog during Saturday's class, and slowly smoke it overnight," Leigh says. The dinner will be a combination of freshly harvested foods, as well as fermented and pickled items the Living Web team has been working on all season. Discussing the plans for Living Web's busy weekend, Leigh asks, "To truly eat well, why not walk through the field, feed the animal that will feed you, and then taste everything in the good company of fireflies?"
To register, visit http://www.LivingWebFarms.org. Registration is by donation, with separate suggested fees for the tour, the class, and the farm dinner.