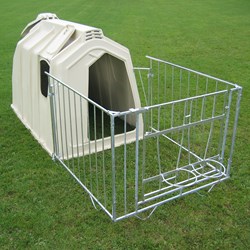 Myerstown, PA (PRWEB) October 15, 2013
Hampel Animal Care introduces the Calf-Tel Heavy Duty Fence System, a new structure that provides U.S. producers the flexibility of a gate system with the durability and longevity that Calf-Tel products are known for.
The new heavy duty fence system is designed to increase farm efficiency, reduce labor, and improve the opportunity for calf care. This system provides dairy producers, calf growers, and heifer raisers with features and benefits that are not available on standard panel fence systems. It has a fully functional front door that opens inward and outward, providing maximum flexibility for the manager, and a dual locking system on the front door that keeps calves safely in the pen while the area is cleaned. The fold in/fold over feature allows managers to easily clean the hutch and pen areas. It also has two rugged wheels for easy mobility and freeze-free feet to make it easy to move through all seasons.
The cattle or hog panel style fencing has been the prominent method for calf hutch fencing throughout North America for nearly two decades. While this style is affordable and meets most of the basic requirements for proper calf management, there are more flexible, versatile and labor-efficient approaches to calf hutch fencing. Recognizing a need from today's dairymen and an opportunity to provide another superior product innovation, Calf-Tel is now introducing its heavy duty fence system to the North American market.
Farmer Boy AG, Inc. has been at the forefront of the livestock and poultry industry, constructing facilities for these industries as well as providing a complete line of parts and supplies to keep those facilities running for years to come. Regardless of market conditions, Farmer Boy AG strives to give customers "The Best Value in Ag Supplies!" For more information on the Heavy Duty Fence System from Calf-Tel, contact the Sales Department at Farmer Boy Ag at (800) 845-3374 or visit http://www.Calf-Tel.com.