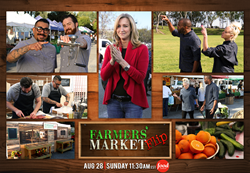 (PRWEB) August 26, 2016
Television never tasted so Flippin' good! In Lara Spencer's newest show, the flipping is done with FOOD as two teams of chefs take each other on at a Farmer's Market. They'll buy all the ingredients needed to make a killer meal and cook right there at the Market in an outdoor kitchen. They'll then sell their creations to the patrons of that very Farmers Market on the very same day, with each team trying to make the most money. Using nothing but ingredients from the market, they'll need creativity and skill to make the most profit and win $5,000. Farmers Markets have never seen a showdown like this, and outdoor kitchens have never gotten so hot!
Tune in this weekend to FARMERS MARKET FLIP on Sunday August 28th at 11:30am on FOOD NETWORK!
http://www.foodnetwork.com/shows/food-network-specials/all-specials/burger-boys-vs-celeb-chefs.html