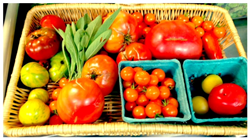 We believe it is important to take the initiative to create connections between students and the foods they eat.
Islandia, NY (PRWEB) October 30, 2014
In 2010, U.S. Congress declared October as National Farm to School Month in order to raise awareness about the important role that local farms play in school nutrition. Local farms not only provide fresh produce, but also help educate children about the origins of food. Research has shown that when children know where their food comes from, they are more inclined to include those items in their diets. Furthermore, National Farm to School Month supports the local economies by promoting purchase of local goods and helps reduce the environmental impact of transporting goods from distant locations.
Greenleaf Cuisine is Whitsons' local produce initiative. Whitsons School Nutrition® is committed to supporting local farmers by sourcing produce locally whenever seasonally available. School gardens are a pivotal aspect of the Greenleaf Cuisine program as they not only function as a hands-on learning tool for students, but also help children become more familiar with fruits and vegetables. The main goal of Greenleaf Cuisine is to provide the very best produce the region has to offer, fresh from farm and garden to fork. According to John Whitcomb, Whitsons' Chief Operations Officer, "With the increasing environmental and health concerns regarding the source of our food, we believe it is important to take the initiative to create connections between students and the foods they eat."
Many schools across the nation hosted exciting events to celebrate the Farm to School Month, and Whitsons' locations were no exception:

In Connecticut, Fairfield Ludlowe High School enjoyed a very special Local Day with produce from Sport Hill Farm, a local from Easton, CT.
Gardner High School in Massachusetts offered a hot local cider station at the high school provided by Lanni Orchards from Lunenberg, MA.
Amherst High School in Massachusetts hosted a Local Day, featuring fall produce from local farms such as butternut squash, apples, potatoes, parsnip, turnips, etc.
Newton South High School in Massachusetts included fresh fall vegetables from their Sustainable School Garden in their meals for Food Day on October 24th. At Countryside Elementary the students enjoyed a farm to fork sampling of roasted eggplant dip with cucumber coins, made with fresh eggplants from their own school garden
In Pennsylvania, the students at York Suburban schools "got to know their farmer". Browns Orchards conducted tastings of a variety of apple products (apple cider, apple butter and two types of apples) at the high school and middle school.
These are all examples of how Whitsons promotes farm to school initiatives, and how schools across the region are celebrating National Farm to School Month with exciting local produce tastings and events.
# # #
Whitsons Culinary Group provides a wide range of highly customized dining services to public schools, corporations and institutions, with a strong focus on nutritious, high quality menus made from fresh, wholesome ingredients. Whitsons has a long and proud history of excellence and growth since 1979 and currently ranks the 4th largest school nutrition provider in the United States. Whitsons' scope of expertise and services extends to: emergency dining, residential and healthcare dining, prepared meals, and school dining and services.