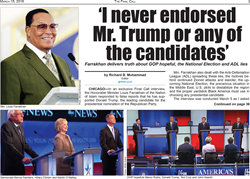 Most presidents have been controlled by forces that control money and special interests. When Mr. Trump refused their money, he refused their control. This made him dangerous
CHICAGO, ILLINOIS (PRWEB) March 10, 2016
The Final Call Newspaper has published in its latest edition, (Vol. 35; No. 23) an in-depth interview with the Honorable Minister Louis Farrakhan of the Nation of Islam in which he responded to false reports that he has supported Donald Trump, the leading candidate for the presidential nomination of the Republican Party.
The interview was conducted March 5 as Final Call Editor, Richard B. Muhammad asked Minister Farrakhan questions about what has been spread in the media. "I never endorsed Mr. Trump or any of the candidates running for nomination to lead their party," said Minister Farrakhan. "I could never endorse any candidate because not one of them is saying that which would save America from the Wrath of Allah (God)," he added.
According to The Final Call, Minister Farrakhan's interview also addressed Anti-Defamation League (ADL) assertions, the upcoming National Election and the precarious situation in the Middle East.
The full interview has been made available on The Final Call's website at http://www.finalcall.com/artman/publish/National_News_2/article_102946.shtml
The Final Call Newspaper serves a readership of diverse economic and educational backgrounds and is available in both print and digital subscriber editions. It's print edition includes circulation in North America, Europe, Africa and the Caribbean.