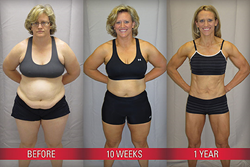 Live life at level 10!, meaning, you have this amazing body that you work hard to condition, now get out there and use it.
Parker, CO (PRWEB) January 02, 2015
Registration is currently open for the next 10-week session beginning on January 10th. Farrell's offers four 10-week sessions per year and classes are limited, in order to maintain an intimate coaching and work-out experience. At the end of each 10-week session, Farrell's gives away a $1000 transformation prize and once a year, a $10,000 annual transformation prize is given.
Farrell's eXtreme Bodyshaping is a martial arts based program which combines four elements needed to make changes in one's body shape: cardiovascular exercise, strength training, a nutrition plan and instructors/coaches to train and encourage throughout the journey. 40% of the program is focused inside the gym, with classes and coaching six days a week, and 60% of the program if focused outside of the gym, keeping up with proper nutrition and discipline.
In addition, Farrell's isn't just about a ten week program that offers results and leaves the clients on their own, they continue to offer a variety of ways for their clients to maintain those lifestyle changes that the program originally helped them to produce. Owner and head coach, Chad Davis said, "Live life at level 10!, meaning, you have this amazing body that you work hard to condition, now get out there and use it.  Will you run or walk your first 5K, 10K, or a marathon?  Do you want to climb a 14er?  Do you want to do a big hike through the mountains or do you want to do a mud run or Ride the Rockies? What now? What will you do with all your training?" Let us help you explore new ways of staying in shape, while having fun."
Farrell's offers training for field trips to places or for events, recently taking a group to The Incline. In 2015, they will begin training for events coming up in the spring and summer, such as the Valentine's Day 5K, Spartan Race and MuckFest, to name a few. Visit Farrell's eXtreme Bodyshaping Facebook Page for updates on upcoming events/field trips.
Farrell's eXtreme Bodyshaping is located 11280 South Twenty Mile Road, Suite 108, Parker, CO 80134. For more information please call (720) 376-9548, or visit or extremebodyshaping.com.
About Farrell's eXtreme Bodyshaping
Farrell's eXtreme Bodyshaping is a results based fitness program for participants of any age, lifestyle, sex or athletic ability. The program was developed by Lance Farrell, a long-time taekwondo competitor and teacher. It was developed specifically to combat obesity and to help people develop healthy lifestyle habits by incorporating the fat-burning, strengthening and endurance building aspects of competitive martial arts training into a course for regular people who aren't interested in sparring or contact drills.
About NALA™
The NALA is a full-service marketing agency providing custom personalized service for small and medium businesses throughout the United States.  
PR Contact: Tiffani Tendell
ttendell(at)thenala(dot)com
805.650.6121, ext. 361