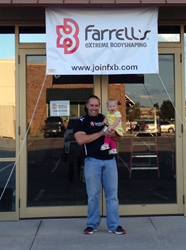 "Our first year here in Parker has been a big success. We have helped hundreds of people get healthy to ultimately, live how they want to live, and be able to do what they want to do.
Parker, CO (PRWEB) September 24, 2014
October 12th marks the first-year anniversary of Farrell's eXtreme Bodyshaping, the martial arts based 10-week fitness program located in Parker, Colorado. From October 4-10, the community can enjoy unlimited complimentary fitness classes, including kickboxing classes on Monday, Wednesday, and Friday and strength training classes on Tuesday and Thursday. Click here for the full fitness class schedule.
"Our first year here in Parker has been a big success. We have helped hundreds of people get healthy, to ultimately live how they want to live, and be able to do what they want to do. This is our main goal: whether it is to help them be better athletes or simply be able to chase their kids around the playground. Perhaps, they just want to take a walk without getting winded or they have a goal to hike a mountain," said owner and head coach, Chad Davis, who himself went through Farrell's program in the spring of 2008.
Farrell's eXtreme Bodyshaping program is a 10-week program which combines four essential elements needed to make changes in one's body shape: cardiovascular exercise to burn fat, strength training to build muscle, a nutrition plan to help one eat healthy and instructors and coaches to keep clients encouraged throughout the journey. 40% of the program is focused inside the gym, with classes and coaching six days a week, and 60% of the program if focused outside of the gym, keeping up with proper nutrition and discipline. "Our coaches make sure you are successful and will take you by the hand throughout the entire process. We will email and make phone calls to our clients, giving them support and encouragement and always helping them to stay in check," said Chad.
The next 10-week session will begin on October 11th. Registration is currently open. Farrell's offers four 10-week sessions per year and classes are limited, in order to maintain an intimate coaching and work-out experience. At the end of each 10-week session, Farrell's gives away a $1000 transformation prize and once a year, a $10,000 annual transformation prize is given.
After going through the program, Chad Davis said, "What really hooked me were the relationships that grew from ten weeks of training with my team and coach. I knew at that point I had found something more than a gym and began plotting a course to share with others just how life changing this program is."
Farrell's eXtreme Bodyshaping is located at 11280 South Twenty Mile Road, Suite 108, Parker, CO 80134. For more information about the one week of free classes or to sign up for the fall 10-week session, please call (720) 376-9548.
About Farrell's eXtreme Bodyshaping
Farrell's eXtreme Bodyshaping is a results-based fitness program for participants of any age, lifestyle, sex or athletic ability. The program was developed by Lance Farrell, a long-time taekwondo competitor and teacher. It was developed specifically to combat obesity and to help people develop healthy lifestyle habits by incorporating the fat-burning, strengthening and endurance building aspects of competitive martial arts training into a course for regular people who aren't interested in sparring or contact drills.
About NALA™
The NALA is a full-service marketing agency providing custom personalized service for small and medium businesses throughout the United States. The NALA consults with each individual business and develops a specific strategy based on the business' unique advertising and marketing needs. Clients' campaigns focus on providing good web content, which include services such as news releases, online advertising, social media, blogs, website development, and charity co-branding, among others.
PR Contact: Tiffani Tendell
ttendell(at)thenala(dot)com
805.650.6121, ext. 361