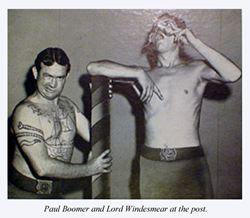 when you stumble on something like this it's not about the money, it's about having fun
(PRWEB) May 30, 2014
Norb and Marie Novocin, owners of Estate Auctions, Inc. are known for offering some very unusual items on eBay. This time they have made available through auction, a rare and outrageously ridiculous three record set of The Great Crepitation Contest. The event features the returning champion Englishman Lord Windesmear and the challenger, Australian Paul Boomer.
Originally produced as an in-house joke by CBC sports announcer Sidney S. Brown assisted by CBC producer Jules Lipton. Some The recording was done in Toronto in late 1940 at "Red" Foster's Studios on Alcorn Avenue.
"At times are items we come across items that literally make us laugh so hard we cry, this was one of them. We have sold some amazing pieces of artwork and antiques for tens of thousands of dollars but when you stumble on something like this it's not about the money, it's about having fun", says Norb Novocin, owner of Estate Auctions, Inc.
Estate Auctions Inc. also recorded each record and posted it on YouTube.
To learn more about the Novocins and Estate Auctions, Inc. visit them on eBay, user ID EstateAuctionsInc or find them on Facebook. For consigning information call 800-573-3508. You can find their new book Getting Sold On Ebay, A Treasure Hunters Guide To Making Money on eBay or Amazon.