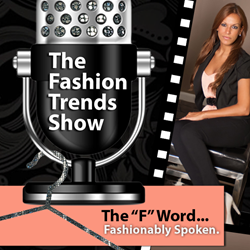 New York, NY (PRWEB) August 23, 2013
Fashion Trends Show (FTS), a recently launched podcast available on iTunes, announced that its latest episodes feature top fashion industry experts. Seasonal trends, original tastes, dos, don'ts, must-have items and international styles are all on the topic for discussion during its newest episodes.
Art and Amby, of Art8Amby blog, forecast the future of fashion, divulging 2014's fashion crazes and staple items that will never go out of style. Offering exciting industry highlights, Art and Amby bring an international flare to the Fashion Trends Show, giving the scoop all the way from Indonesia.
The August 20 FTS episode features Isadora Giallorenzo, creator of Chicago Looks blog and expert of big city street styles. Sharing cutting-edge Windy City fashion tips, Giallorenzo discusses the rise of the 'flower crown,' and the super chic and unique tastes of Lollapalooza 2013 and Chi-Town fashion.
The fashion fiasco gets heated as Jonathan Valdez, voted as one of the "Top 5 Best Bloggers to Follow" on Mashable.com, and seasoned fashion expert gives FTS his two cents, set to release August 22. Founder of Orange Juice & Biscuits, Valdez offers top-notch fashion tips and trends for men and women and dishes about his favorite celebrities and their fashionable flairs. This high-energy fashion blogger boasts about his small town upbringing and momentous move to the Big Apple to pursue fashion.
Next, Lauren Felix doesn't let her petite size stand in her way for big success. Creator of La Petite Fashionista, in the episode releasing August 24, Felix exposes how to break the rules of fashion and make styles unique. This effervescent fashion merchandiser discusses fall fashion trends and how to wear neons, neutrals and the whole nine yards! This adorable fashion expert shares affordable designs and talks about the recent launch of her magazine.
Fashionistas, trendsetters and all those interested in learning about the hottest styles, how to break into the fashion industry and more can tune into FTS. The Fashion Trends Show is available for free subscription on iTunes and through the Show's website, at http://www.FashionTrendsShow.com, where more information about these key fashion influencers can also be found.
Fashion professionals who wish to be featured on FTS are encouraged to contact host Natalia Pinheiro directly, at Natalia(at)fashiontrendsshow(dot)com.
About Fashion Trends Show
The Fashion Trends Show podcast is a virtual lounge where emerging and established fashion designers, professionals and fashionistas gather to chat about the "f word" - fashion! Host Natalia Pinheiro, a 'hopeless fashionista', created the Show as a way to share her own perspective of current trends, and receive insight from others heavily involved in (or in love with) the industry.