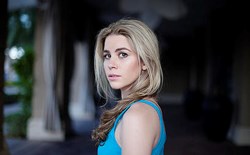 My favorite person personally was Michael Kors. In one of my interactions with him, he said to me - 'you work in corporate fashion, don't you?'
New York, NY (PRWEB) August 01, 2013
The recently launched Fashion Trends Show (FTS) podcast announced that its latest episode featuring former Project Runway Season 9 participant Amanda Perna is now available through iTunes and the Show's website. Interviewed by host Natalia Pinheiro, the founder of the high-fashion label House of Perna shares her experiences as a fashion designer - on and off screen.
According to Ms. Perna, her appreciation for fashion surfaced while part of theatre productions, actively acting. She admitted she begged costume designers to see what she would be wearing and felt her characters didn't come to life until she had a costume on.
The results of Amanda's theatrical influence are colorful and playful collections. Yet, she managed to keep it "real and wearable." She affirmed her clothes are made to allow women to feel sexy, while keeping a high dosage of uniqueness and sophistication.
Amanda Perna was selected to appear on Season 9 of the competitive Project Runway Show, ran by Lifetime, in 2011. She openly said the experience granted House of Perna enough exposure to propel her business, which she is thankful for.
About the Show crew, Amanda said, "My favorite person personally was Michael Kors. In one of my interactions with him, he said to me - you work in corporate fashion, don't you?"
She said that as far as participating designers, she remains in touch with a few of them. Then while acknowledging the talent of some, she also expressed that, in her opinion, others didn't seem to have apparent designing or constructing skills.
In the recently launched podcast episode, Ms. Perna reveals one of many key fashion trends for this fall/winter, and offers a glimpse of what House of Perna will introduce this coming season.
The Fashion Trends Show is available for free subscription on iTunes and through the Show's website, at http://www.FashionTrendsShow.com, where more information about Amanda Perna can also be found. More details about House of Perna and online shopping are also available at http://www.thehouseofperna.com.
Fashion professionals who wish to be featured on FTS are encouraged to contact host Natalia Pinheiro directly at Natalia(at)FashionTrendsShow(dot)com.
About Fashion Trends Show
The Fashion Trends Show podcast is a virtual lounge where emerging and established fashion designers, professionals and fashionistas gather to chat about the "f word" - fashion! Host Natalia Pinheiro, a 'hopeless fashionista', created the Show as a way to share her own perspective of current trends, and receive insight from others heavily involved in (or in love with) the industry.