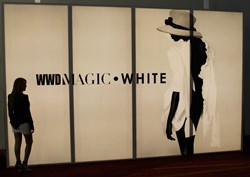 It was thrilling to walk amongst such stylish people, while carrying my recorder, and followed by my own video crew, creating a great deal of buzz for the booths we stopped by – totally cool!
Las Vegas, NV (PRWEB) September 04, 2013
Fashion Trends Show (FTS), a fashion podcast available on iTunes, announced the debut of its first video podcasts, featuring notorious fashion designers and brands exhibiting at Magic Market Week, in Las Vegas, last August 19-21. Both established and emerging talents reveal their new collections, inspirations and even personal favorites, when sharing about new trends.
Included in the video podcasts series are the following labels:
1. 'Thursday Friday', a fashion and accessories brand specialized in creating reasonably priced canvas tote bags that pay tribute to popular luxury designs, presented by co-founder and business strategist Olena Sholomytska.
2. 'Betsy Moss', a glamorous yet affordable global brand, injected with spicy and sexy Miami flavors, presented by head of design and founder Jorge Perez.
3. 'Courtney Allegra', presented by Courtney Allegra herself, an edgy, savvy and accomplished 16-year-old designer, founder of the brand.
4. 'Smooth Effects', a line focused on providing women comfortable and practical support with built-in under garments, presented by creator Rakia Reynolds.
5. 'Lucidez', a label imported from Brazil, introducing sophisticated designs in sexy lines and colorful inspirations, presented by Anna Bryan, a direct representative of the company in the U.S.
6. 'Récreation', presented by founder and designer Natalia Marova, as the sophisticated European interpretation of current trends.
7. 'Blue Essence', a line of soft jeans with special fit features that is conquering the retail landscape, presented by co-founder Eliot Roberts.
8. 'Nina Austin', a comprehensive collection of laced and beaded evening gowns proudly introduced by model Martina.
9. 'Isabel', a line of fine blouses, trousers and everyday pieces, made with sophistication for a refined audience, presented by CEO and designer Isabel Sokiryansky.
Known as the world's largest global market week for contemporary fashion, Magic Market Week is comprised of 10 parallel Shows, taking place at the Las Vegas Convention Center as well as Mandalay Bay Convention Center. The events at Magic Week attracted over 35,000 buyers, and a significant amount of members of the press.
"Walking the Shows this year was truly magic, as I was able to not only preview the new collections we will be seeing in stores soon, but I also got to know some of the amazing minds and inspirations behind fabulous brands and lines," said Natalia Pinheiro, host of the Fashion Trends Show. "It was thrilling to walk amongst such stylish people, while carrying my recorder, and followed by my own video crew, creating a great deal of buzz for the booths we stopped by – totally cool!"
All Magic video podcasts recorded by the Fashion Trends Show crew are scheduled to be released by Monday, September 9th – some are already available. The Fashion Trends Show is available for free subscription on iTunes and through the Show's website, at http://www.FashionTrendsShow.com, where more information about the interviewed designers and brand principals can also be found.
Fashion professionals who wish to be featured on FTS are encouraged to contact host Natalia Pinheiro directly, at Natalia(at)fashiontrendsshow(dot)com.
About Fashion Trends Show
The Fashion Trends Show podcast is a virtual lounge where emerging and established fashion designers, professionals and fashionistas gather to chat about the "f word" - fashion! Host Natalia Pinheiro, a 'hopeless fashionista', created the Show as a way to share her own perspective of current trends, and receive insight from others heavily involved in (or in love with) the industry.