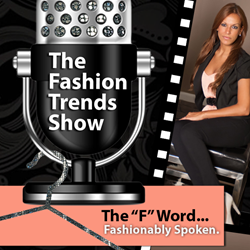 In this first episode, my audience will be amused by the greenest, rawest version of me.
MIAMI, FL (PRWEB) July 23, 2013
The Fashion Trends Show (FTS) podcast recently launched through iTunes is geared towards fashionistas and professionals involved in all facets of fashion – from bridal make-up artists to high-end designers. Host Natalia Pinheiro announced that three episodes are now available for download through both iTunes and the Show's website http://www.FashionTrendsShow.com.
The first episode is a short introduction to the Show and its host, by Ms. Pinheiro herself. "In this first episode, my audience will be amused by the greenest, rawest version of me. They will be first introduced to my Brazilian accent and my inexperience with recording," she admits, jokingly. "But very talented professionals and artists are lined up to be featured on the show, so I am very excited and motivated to step up my game as a host!"
The second episode is Natalia's first interview, when young entrepreneurs and co-founders Sabrina and Silvia Scandar talk about their online boutique http://www.Vividly.co. The site is specialized in transferring artistic expressions from paintings, drawings and sculptures, to wearable pieces, such as tank tops and scarves.
Then the latest episode is also an interview, now featuring the irreverent fashion designer Milda Bublys, an emerging talent who calls her fashion 'artsy', and her art 'fashiony'. Milda is also admittedly committed to the use of inappropriate humor in her creations, which makes her very unique and edgy. More information about Ms. Bublys and her designs can be found at http://www.mildabublys.com.
Additional details provided by featured guests, such as photos, videos, and exclusive FTS discount promo codes are also available at the Show's website.
In addition to studio interviews, host Natalia Pinheiro will also be taking the podcast on location whenever possible. The first scheduled trip is to Magic Market Week, in Las Vegas, next August 19-21, when she will be interviewing designers from the show floor and posting as many episodes as possible. "Our goal is to get ten quality interviews in, but the more the merrier!"
More information about the Fashion Trends Show podcast and host Natalia Pinheiro is available at http://www.FashionTrendsShow.com. To be featured on the show, fashion artists and professionals are encouraged to contact Natalia directly, at info(at)FashionTrendsShow(dot)com.
About Fashion Trends Show
The Fashion Trends Show podcast is a virtual lounge where emerging and established fashion designers, professionals and fashionistas gather to chat about the "f word" - fashion! Host Natalia Pinheiro, a 'hopeless fashionista' herself, created the Show as a way to share her own perspective of current trends, and receive insight from others heavily involved in (or in love with) the industry.