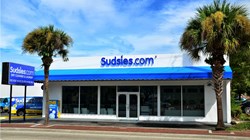 "This season's looks certainly have hanger-appeal, but some come with tedious care instructions," says Sudsies Founder and President Jason Loeb.
Miami, Florida (PRWEB) September 26, 2013
September runway shows from the four Fashion Week greats - New York, London, Milan and Paris - may have the buyers and stylists looking forward to 2014 spring trends, yet the cooling weather has the consumer, even South Floridians, thinking about fall picks. As retailers showcase the latest trends, Sudsies Dry Cleaners & Laundry has introduced a Fall Fashion Fabric Guide to help shoppers mind the function and practicality behind the style before making a purchase.
"This season's looks certainly have hanger-appeal, but some come with tedious care instructions," says Sudsies Founder and President Jason Loeb. "In addition to looking and feeling good, part of our promise to our customers is convenience and we hope they find this guide useful in maintaining the quality of their wardrobe."
Sudsies Fall Fashion Fabric Guide includes six of the 2013's top fall trends:
I. KNITS: Slouchy, oversized, form-fitting, patterned, tightly woven, or intricately crocheted, knits are a classic fall go-to. In his show, Marc Jacobs paired sweaters and pencil skirts for a new kind of "suit", while Mara Hoffman showed large pullovers with skinny pants. Before purchasing, keep in mind that knit fabrics are often stretched before even making it to stores during the processing process. Knitted loops should be round. Elongated or long loops are a sign that the garment had already been stretched.
Have extra drawer of shelf space available. Ideally, knits should be stored flat with tissue. If knits must be hung, use a properly-sized padded hanger for tops. For bottoms, use a soft-clip hanger and clip so that the garment doesn't sag, stretch or droop. Even if the article has hanging loops, do not use, as they will pull and distort the shape over time. Networking is an important part of business, but try not to wear knits for functions that may require name tags, as the adhesive can create "fuzzy" damage when removed. Avoid pushing up the sleeves. Over time, the fabric will lose resiliency and hang shapelessly over the forearms. For South Floridians, save the knits for assuredly cool days to avoid the urge to hike up the sleeves.
II. LEATHER: A stand-alone statement piece or used in a hybrid form with other fabrics, leather was this year's "it" material. Leather is traditionally associated with a biker or rocker vibe, but this season, designers quilted it, used as trim or paneling, and fashioned into sleek silhouettes to present it in a more sophisticated light.
This material is an animal hide, not derived and woven from plant materials; therefore is prone to some imperfections. A leather tanner will treat and color the materials to hide much of these imperfections, but over time, these treatments will wear away, re-exposing them, much in the same manner that makeup covers up blemishes but wears off over the course of the day. Many professional cleaners recommend recoloring after cleaning to replace the finish that is naturally lost over time. With leather and suede, it's especially important to store in a cool place over the summer months. Hides will stiffen from heat and humidity. These materials are also more susceptible to moth damage. That being said, never store in plastic, for this will only trap in heat and moisture. A muslin cover stored indoors is the best alternative.
III. CAPES: Coverlets have been modernized in a range of ways, from cropped, to short and feminine, to long and sweeping. For South Floridians, capes are a more reasonable alternative to traditional coats with more air flow to the body. For those anomaly cold days, capes can be paired with long leather gloves. Though probably not often worn in South Florida, these garments should still be cleaned at least once during the "winter" season. As outerwear, they are touching public spaces and coat checks, as well as accumulating makeup and hair product residues. Before considering a cashmere option, understand that this fabric is very delicate and susceptible to microscopic abrasion. Those with an on-the-go lifestyle may want to consider a wool/cashmere blend. If opting for the wizard-style, bear in mind the longer hemline attracts debris from the floor and streets. As such, buyers may want to go with a darker color to help camouflage this effect in between cleanings. Before placing back in storage over the Spring/Summer months, be sure to professionally clean and store in a breathable garment bag of tissue to prevent mold build-up.
IV. FAUX FUR: A friendlier alternative to the real deal, many faux furs have a quality and texture that provide a soft feel and luxe look. Northerners are strutting in oversized coats, shrugs and capes, but South Floridians can pick up the trend with accent pieces, such as an infinity scarf, hat or lined items. For minimal upkeep, select furs that are short in length. Longer, shaggier options tend to knot, matte and require a higher level of professional cleaning. With great caution, faux furs can be cleaned at home from time to time; however, never place in the dryer, as the fibers can melt and the damage is irreversible. Hats need to be cleaned too, perhaps more so than other garments with all the oils, makeup and hair product residues accumulated from use. Like coats, it is recommended that hats are professionally cleaned once or twice during the season and before storage. Keep the fluff and sheen of the material with periodic brushing using a soft-bristled clothing brush. Storage in a cool, dry place is especially important for faux fur since moisture can cause the fabrics to frizz.
V. WHITE COLLAR SHIRT: Stock up, as the white collar shirt is perhaps the most important staple for any closet. They are a timeless classic for its ability to complement any style, from this year's menswear looks, to the ultra feminine vibe, as channeled by Carolina Herrera herself. A blouse can also tone down any bold trend looks that one may be hesitant to wear alone. Cleaning these shirts aren't as simple as their appearance. It is recommended that white collared shirts are not placed in the dryer, or if so, for a very minimal amount to of time on low heat. Avoid keeping in hamper too long, as sweat and oils can start to seep in and help premature yellowing. Shirts should be ironed when slightly damp. Any hairspray, makeup and perfume should be applied before putting on a dress shirt, as these are the biggest culprits that contribute to yellowing and stains.
VI. METALLICS: No matter what fashion era, women always gravitate towards the shiny and pretty. Sophisticated pieces of lamé, silks, brocades and jacquard were heavily represented on the runways, ranging in silhouettes from 60s-inspired to ethnic chic. Even everyday items are fused with the trend, as seen with Tee and Cake's silver metallic sweatshirt, Zara's otherwise traditionally professional gold metallic pencil skirt, and metallic sheen jeans and leather pants by varying big name jean brands.
Metallic fibers are very delicate. Most garments made from these materials are highly susceptible to damage from the repetitious rubbing associated with washing and drying machines and will need to be dry cleaned. Perspiration and other moisture may cause the fabric to tarnish, therefore, should not be exposed to weather precipitation or heat conditions that may cause the wearer to perspire more than usual.
Brocade, jacquard and damask fabrics have raised patterns, so take care not to crush or warp the design by being seated for long periods and avoid jewelry that can catch and snag.
Sudsies is among South Florida's premium dry cleaning companies for its top product knowledge and offerings; professional, friendly service; and customer convenience via complimentary pick-up and delivery across Miami-Dade and Broward counties, as well as an Express Mail service to anywhere within the United States. The dry cleaner invests heavily in top training programs and technology that enable its staff to identify specific garment needs and follow through with tailored processes to ensure its cleanliness, appearance, and longevity. In addition to eco-friendly wet and dry cleaning, laundry and alterations, Sudsies specializes in care for designer label, couture, vintage, and other intricate clothing, including all the fashions mentioned in the 2013 Fall Fabric Guide.
About Sudsies Dry Cleaners & Laundry
Miami Beach-based Sudsies is full-service dry cleaning company dedicated to clean clothes, clean service and a clean environment. An industry pioneer for South Florida home pick-up and delivery services, the Sudsies fleet of bubbly, blue and yellow vans offer prompt service to every nook and corner across the tri-county area, while a team of highly-trained specialists care for garments and customers with a smile. The vast range of services includes ecological dry cleaning and laundry processes, alterations and tailoring, clothing restoration, bridal gown storage or alteration and knowledge of specialty items such as couture garments. At Sudsies, customers look and feel their best, while sister company Rugsies ensures customers live in their best with on-site home or office cleaning for carpets, drapes furniture and other home items. For more information about Sudsies, please call 1.888.898.SUDS (7837) or visit http://www.sudsies.com.