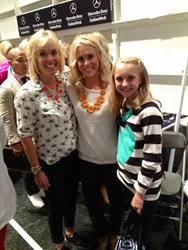 Aztec prints were huge. Paired with turquoise jewelry that is so popular right now, there is sort of Sante Fe vibe or Mara Hoffman look to it.
Salt Lake City, UT (PRWEB) September 13, 2013
A Modern Boutique recently returned from their first ever Fashion Week in New York. They were alongside the biggest names in fashion previewing the latest looks for Spring. While there, they found inspiration for fashion-forward looks to be introduced later this year and released two new statement necklaces.
"It was the trip of a lifetime. We still cannot believe it. We were able to get front row seats near Vogue and Cosmopolitan. We also got to go backstage and take pictures of the accessories that were being featured on the runway," said Annie Copinga, co-founder of A Modern Boutique.
The team is now busy designing looks inspired by what they saw at Fashion Week. After seeing the trends they add their own details to bring the runway looks to trendy pieces women love and can afford.
"The jewelry this year is bigger. It's not subtle. They are not dangles on bracelets, or delicate looks. Instead I saw cuffs and chunkier necklaces." Turquoise and gold were also popular. "Gold is huge for accessories this year, I don't think I saw one piece in silver," says Copinga. Aztec prints are also big. Paired with turquoise jewelry that is so popular right now, there is sort of Sante Fe vibe or Mara Hoffman look to it.
In honor of Fashion Week, AModernBoutique.com introduced two new statement necklaces, the Faith Tortoise Necklace and The Crystal Carol. The Faith Tortoise Necklace was inspired by JCrew and fitting with new trends, has mint and tortoise triangles.
The Crystal Carol necklace, is more formal, with crystals and a look reminiscent of designer Monique Lhuillier, but slightly less formal with a touch of white. Both are priced under $15.
To see the complete line, visit http://www.AModernBoutique.com
See Fashion Week finds, follow A Modern Boutique on Instagram @amodernboutique or on Facebook.com/amodernboutique.
About A Modern Boutique
A Modern Boutique is a new high fashion, low cost fashion retailer founded by Annie Copinga and Diane Terry. The company donates a portion of every sale to a nonprofit organization called Mothers Without Borders. This organization supports abandoned and orphaned children around the world. All of our necklaces are named after a child in need. We hope when you purchase one of our items it will inspire you to not only Look Good and Feel Good but to Do Good! All items can be purchased online at Amodernboutique.com.