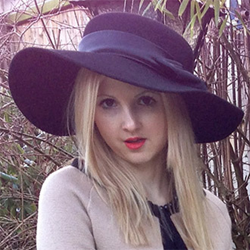 Fashion Blogger from Germany Reveals the Spring 2014 Trends
(PRWEB) March 22, 2014
Gvanta Baier is a experienced fashion blogger, and her blog, "Hannoverfashion", presents her personal thoughts which could bring inspiration for fashionable people around the world. She now talks about the Spring 2014 trends that will reveal the liveliness and elegance of the outfits for the season. Spring Fashion can bring endless possibilities, and Gvanta Baier has some original inspirations for women to start planning for the upcoming spring season. This fashion blogger from Germany discusses some fashion trends that are going to rule the fashion world this spring.
1. Lively Pastels: The colorful rainbow pastels can amazingly suit every woman, from a smart working lady to a beautiful lady who is the mother of two kids.
2. Non-Moto Boxy Jackets: "Add a couple of non-moto jackets to your wardrobe," Gvanta says to all fashionable and gorgeous ladies. These cropped jackets can go well with office trousers and skirts and with a pair of jeans as well.
3. Collar Button-Downs: These shirts are actually inspired from men's fashion, but could be very inventive to flaunt a woman's style. With contrasting color collars, these are more suitable for office going women. Gvanta's fashion blog, Germany, rates these collar button-downs to be a trendsetter this spring.
4. Wide-Leg Trousers: Gvanta through her "mode blog Deutschland" promotes fashion apparels that are not only stylish and beautiful but can also offer functional advantages to a wearer. This is the reason why she thinks wide-leg trousers could be a hot fashion trend for the spring season. Not only they will establish an exceptional style, but will also be easy to wear for a comfortable fashion sense.
5. Bomber Jackets: These jackets with colorful prints and textures could be a cool fashion idea for the spring. These jackets are always versatile to complement one's dressings and one can walk in style like a supermodel.
Gvanta importantly reveals a spring dressing sense that is reflecting more girliness style and will establish its significance in the world of fashion beauty. One can glimpse through her latest fashion showcase "spring cherries" on her blog. She uses black color to intensify the women's beauty and states, "Women think of all colors except the absence of color. I have said that black has it all." According to her, the color black is the most timeless shades in the fashion world and which can certainly serve as the foundation of any elegant outfit.
She is a passionate fashion blogger and her blog Hannoverfashion presents her personal thoughts and which could bring inspirations for the fashionable folks on this planet. She now talks about the Spring 2014.
This fashion blogger sees woman fashion from a different perspective and endeavors to establish a new benchmark in the fashion circuit through her transformative fashion writing. Not only she writes about clothes and apparels, but her important revelations about "kosmetik hannover",that is cosmetics in hannover in English, can also be important for a woman whose aim is to become the center of attraction in all party circuits.