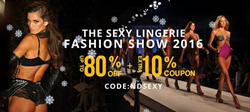 Nastydress, DressLily and Rosewholesale have big plans for holidays.
Los Angeles, CA (PRWEB) December 22, 2016
As Christmas is drawing closer, customers have begun shopping for the season. From supermarkets to shops and even online ecommerce websites, products related to Christmas are being sold in good numbers. With the large number of shoppers turning out at this time, Nastydress, an ecommerce store selling fashion apparels, recently announced its grand plans to retain their old users and create new consumer bases. Realizing that many of the online shoppers are looking for good deals on clothing apparels and accessories, Nastydress owners have decided to attract users with low-price clothing products and accessories.
Nastydress deals in sexy apparels including dresses for clubs and parties, bodycon dresses, sexy lingerie and so on. The ecommerce site is now offering huge discounts along with its affiliate websites, Dresslily and Rosewholesale. Inspired by Victoria's Secret, Nastydress launched a program themed "The Sexy Lingerie Fashion Show 2016" which started on December 1st and will run till the end of the festive month. The owners believe that the exciting deals along with the innovative styles will attract a lot of online shoppers who are on a festive shopping spree.
DressLily has embraced a different strategy for the promotion of their products. DressLily is more focused on interaction with users. The online store's 'Invite Your Friends' program which was launched in the past had received rave reviews from users and there were many users who took part in it. However, some of their users complained that the rules of the program weren't clear enough which is why they couldn't receive the coupon code even signing up properly. Dresslily management has decided to redesign the flow and the way a buyer interacts with the store.
Rosewholesale is looking beyond its Christmas promotion on home accessories by launching a grand Plus Size Sale. Rosewholesale is offering up to 80% discount on supersized apparels. These include Plus Size Tops, Dresses, bottoms & Plus Size Outwear Special Sales. Most Hoodies and sweater with Christmas elements are priced at less than $15, whereas leggings cost even less than $10.
ASOS, the bargain bin ecommerce store from the UK, has launched a "Gift your Secret Santa or S/O with fresh tech cases" promotional campaign. They have added a 'Christmas' category in the navigation bar which includes Christmas clothing and accessories.
Related link:
http://www.nastydress.com/promotion-the-sexy-lingerie-fashion-show-special-162.html?lkid=10267374
http://www.dresslily.com/invite_friends.html?lkid=10267374
http://www.rosewholesale.com/promotion-plus-size-sale-special-157.html?lkid=10267374