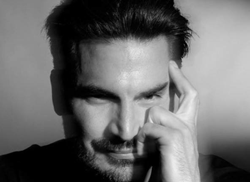 I feel honored, it was my first film and first time working with Furne. He opened his life to me and we showed the world a candid Inside Amato. But sharing my work can feel naked, Similar to making a collection.
Los Angeles, CA (PRWEB) October 20, 2015
Rocco Leo Gaglioti of Fashion News Live has created his debut documentary on Amato Haute Couture, Dubai based fashion house to the stars and it has been an immediate success among the fashion elite. The film, which Gaglioti both directed and produced, takes the audience beyond the front row and behind the scenes of one of the worlds most exclusive and sought after designers Furne One (Oh-Nay).
Unlike many fashion shorts, 'Inside Amato by Furne One' is not a glorified ad. It is the real and raw truth behind the fashion industry. The documentary takes the audience on a journey into the world of Amato Haute Couture, from inspiration to creation to the development of the fashion house's most recent collection and runway show 'Love is a Battlefield' which has been a huge success around the globe showing at NYFW, Art Hearts Fashion LA and at Fashion Forward Dubai. For information on the film including trailer please visit the film's website http://www.insideamato.com.
Rocco Leo Gaglioti is a creator, producer, director and host. He founded the televised on-line fashion magazine, FashionNewsLive.com, which almost overnight has become ranked as one of the top ten out of the 150 million fashion and celebrity sites around the world. In 1994 a Miami model scout with an eye for spotting talent advised Rocco to try his hand at modeling. Miami quickly turned into Milan and Paris, which turned into New York and the rest is history. The 6'5 former model may dress head to toe in Marc Jacobs and Gucci, but that is not what makes him fashion's latest "It Guy." It's more than likely the combination of his soulfulness, his uncanny ability for discerning the next big thing and his beguiling quintessence that landed him on the pop culture radar and will undoubtedly make him a household name. This year Rocco is being inducted into the Taste Awards Hall of Fame.
Furne One, creative director of Amato Haute Couture, has dressed celebrities such as Katy Perry, Lady Gaga, Heidi Klum, Beyoncé, Nicki Minaj, and Olivia Palermo. His label is Avant Garde, multicultural and outside the box keeping to its' founding principles of being culturally creative and eco-friendly. His signature style is both timeless and modern with an urban global clientele consisting of celebrities and the fashion elite.
The International Fashion Film Awards presented by Cinémoi, an internationally acclaimed lifestyle channel featuring curated films from around the world of high couture festivals will be held October 25th, 2015 at the Saban Theater in Beverly Hills, CA. Hosting the show are Cheryl Burke of Dancing with the Stars and George Kotsiopoulos of The Fashion Police.

Red Carpet with A-list talent, internationally acclaimed designers, stylists and models.
IFFA nominees include, Inside Amato, IRIS, CAROL, Jimmy's Hall, Saint Laurent, Woman in Gold, Stella McCartney
For images and media requests please contact Alison Ross at alison(at)alisonrosspr(dot)com