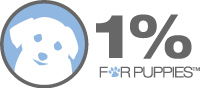 "I have worked 15 years at preventing fashion disasters, but feel it is even more important to prevent animal disasters."
Ketchum, ID (PRWEB) May 30, 2014
While Fashion First Aid cares a lot about preventing fashion disasters, they care even more about preventing puppies and kitties from being needlessly killed. Through their "1% For Puppies" program, they donate 1% of sales (not just profits) every month to the Animal Shelter of Wood River Valley. But from now until 24 July, 2014, Fashion First Aid is donating an additional $0.50 for every new like received on the Fashion First Aid Facebook page, $1 for every comment on the Fashion First Aid Facebook page that mentions #1percentForPuppies, and $5 for every order on FashionFirstAid.com with "1% For Puppies" written in the name or company field.
"I have worked 15 years at preventing fashion disasters, but feel it is even more important to prevent animal disasters," says Fashion First Aid Founder and Chief Inventor Kim Leone Castellano. The company is hoping to raise funds and awareness for shelter animals, but also hoping to attract other businesses to follow their lead and donate 1% of their sales to a philanthropic cause near and dear to their hearts.
Fashion First Aid (Solutions That Stick Inc.) invents and manufactures both wacky and useful personal care products that you will never see someone else wearing, unless you take off his/her clothes. Recently relocated from Southern California to Idaho, we began in 1999 with one product, Garment Guard: disposable underarm shields (because the founder was a broke law student who was tired of her expensive white t-shirts getting ruined by underarm taco stains). Now, with over 45 products on the market, over 10 in the works, and a light and upbeat book entitled The Dirty Side of Fashion, the corporate mission is still to save the world from beauty and fashion disasters and help make clothes last longer.
The Animal Shelter of the Wood River Valley, the first "no kill" shelter in Idaho, promotes companion animal welfare by providing temporary shelter for homeless animals, adopting them to qualified homes and reducing animal abuse, neglect and overpopulation through community education and spay/neuter services. In 2013, more than 1500 animals received vital services from the Shelter. This includes more than 400 animal adoptions, 592 dogs and cats spayed or neutered, and over 9,000 pounds of food distributed through our Paws for Hunger partnership with The Hunger Coalition.