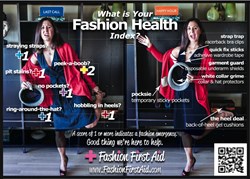 I love being the victim of a fashion emergency- said no one ever.
New York, NY (PRWEB) February 07, 2014
Mercedes-Benz Fashion Week officially kicked off in New York City yesterday, with a bevy of fashion industry insiders descending upon Manhattan. Models are strutting the runway looking perfectly pulled together despite the surrounding chaos backstage. Fashion editors are running in and out of shows, despite the elements without a fashion emergency in sight. What's their secret?
A long-time favorite of fashion stylists, models and editors, Fashion First Aid's products have been staples among the fashion set for more than a decade. Whether it's hiding underarm sweat marks, instantly mending a ripped hem, removing makeup smudges or creating instant pockets, Fashion First Aid's assortment of 40 shoe fixes, stain preventers and fashion remedies are there to help. Who wouldn't want surefire ways to take better care of fashion investments while avoiding embarrassing fashion faux pas along the way.
As seen on WABC New York's Secret Sales, Fashion First Aid is pleased to be offering their signature Fashion First Aid Kit at 50% off now through midnight Friday, February 7. Chalk full of 7 innovative solutions, this best-selling kit features disposable underarm shields, temporary sticky pockets, adhesive wardrobe tape, tattoo covers, blister preventers, collar and hat protectors, bra solutions and a stain removing sponge. Conveniently portable, these fashion fixes fit inside any handbag, making it easy to look your best all the time.
Fashion First Aid (Solutions That Stick Inc.) invents and manufactures both wacky and useful personal care products that you will never see someone else wearing, unless you take off his/her clothes. Based in Ketchum, ID, founder and chief inventor Kim Leone Olenicoff Castellano began in 1999 with one product, Garment Guard: disposable underarm shields (because she was a broke law student who was tired of her expensive white t-shirts getting ruined by underarm taco stains.) Now, with over 40 products on the market, over 10 in the works, and a light and upbeat book entitled The Dirty Side of Fashion, the corporate mission is still to save the world from fashion and beauty disasters and help make clothes last longer.