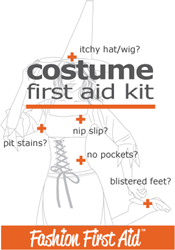 The Costume First Aid Kit is the essential item to protect against ghoulish fashion incidents in your Halloween costume
Ketchum, ID (PRWEB) September 30, 2014
Fashion First Aid is on hand to scare away potential Halloween costume disasters with the brand's newly released Costume First Aid Kit. Available to purchase online starting today, this re-imagined version of the company's best-selling purse-sized Fashion First Aid Kit contains essential fashion fixes for all kinds of Halloween get-ups, ready to handle any type of scary emergency. Five fashion solutions make it easy to mend thrift store costumes, keep creative outfits firmly in place and simply ensure that costumes fit right, stay clean and feel good as they're worn from party to party.
"The Costume First Aid Kit is the essential item to protect against ghoulish fashion incidents in your Halloween costume", said Fashion First Aid Founder and Chief Inventor Kim Castellano, aka Honest Kim.
Inside the Halloween Costume First Aid Kit are: Garment Guard to prevent nasty sweat stains from non-breathable fabrics like polyester, Wundercover to save feet from blisters and Quick Fix Sticks to tackle instant hems and emergency rips and tears. The kit also contains a Pocksie to keep cash and cards safe and White Collar Grime to keep hats and wigs comfortable, clean from sweat and makeup. The kit retails for $10.95 and is available at http://fashionfirstaid.com only during the month of October.
Fashion First Aid (Solutions That Stick Inc.) invents and manufactures both wacky and useful personal care products that you will never see someone else wearing, unless you take off his/her clothes. Recently relocated from Southern California to Idaho, we began in 1999 with one product, Garment Guard: disposable underarm shields (because the founder was a broke law student who was tired of her expensive white t-shirts getting ruined by underarm taco stains.) Now, with over 45 products on the market, over 10 in the works, and a light and upbeat book entitled The Dirty Side of Fashion, the corporate mission is still to save the world from beauty and fashion disasters and help make clothes last longer.