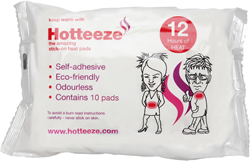 I love throwing a coat over my beautiful cocktail dress- said no Fashionista ever.
Ketchum, ID (PRWEB) June 19, 2014
"I love throwing a coat over my beautiful cocktail dress," said no Fashionista ever. Shivering in the cold is no fun and holding a cup of coffee isn't an option when you have to hold a bouquet. Thankfully, Hotteeze collection of discreet, portable stick-on heat pads is now available for purchase at Fashion First Aid. Providing traditional Japanese heat therapy at home or outdoors, Hotteeze heat pads comfort and warm tired muscles with a steady supply of heat. Thin and flexible, Hotteeze Heat Pads are perfectly discreet at 4 x 5.25" and only 1/8" thick, making them comfortable to wear without creating any bulkiness. Featuring one adhesive side, Hotteeze Heat Pads simply affix on the inside of any piece of clothing, creating an inner layer of heat for twelve hours. Just in time for wedding season, they'll easily attach to the inside of any dress, ensuring consistent warmth on even the coolest summer evenings outdoors.
Heat pads have been used for decades in Japan to help keep the core body temperature stable. Heat is believed to boost the immune system and prevent colds and sickness. Hotteeze Head Pads make it easy to apply traditional Japanese heat therapy techniques any time. Conveniently portable, Hotteeze pads will heat up simply when exposed to the air with no shaking involved. They are also environmentally friendly, using potassium chloride, so the iron filing contents can be reused as a soil conditioner contributing to the reduction of waste. The outer packet is combustible and does not generate toxic gases.
Hotteeze Heat Pads, $18.95 for a pack of 10 pads are now available for purchase at http://www.FashionFirstAid.com. Each pad is about the cost of convenience store coffee, stays warm way longer, and doesn't give you bad breath.
Fashion First Aid (Solutions That Stick Inc.) invents and manufactures both wacky and useful personal care products that you will never see someone else wearing, unless you take off his/her clothes. Recently relocated from Southern California to Idaho, we began in 1999 with one product, Garment Guard: disposable underarm shields (because the founder was a broke law student who was tired of her expensive white t-shirts getting ruined by underarm taco stains.) Now, with over 45 products on the market, over 10 in the works, and a light and upbeat book entitled The Dirty Side of Fashion, the corporate mission is still to save the world from fashion and beauty disasters and help make clothes last longer.