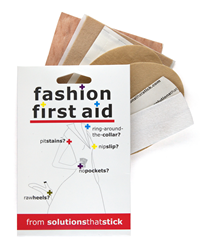 Fashion First Aid kit is the solution for Derby Day problems in one clever kit that's small enough to fit in your clutch.
Louisville, KY (PRWEB) April 29, 2014
Picture this: It's Derby day with women in the perfect dress, hat and shoes when the unthinkable happens. Sweat marks appear on gorgeous dresses, new shoes start to give blisters and the fancy hats get stained with makeup. Fashion First Aid has the solutions to these problems in one conveniently clever kit that's small enough to fit in a clutch.
Available exclusively at the Peacock Boutique in Louisville, KY, Fashion First Aid's best-selling Fashion First Aid kit features five fashion fixes to help avoid embarrassing and uncomfortable malfunctions at the 140th Kentucky Derby. This portable kit includes Garment Guards to prevent visible underarm sweat marks, Wundercover to protect from and disguise ugly blisters, Quick Fix Sticks fashion tape to mend hems, gaps and rips, a Pocksie adhesive instant pocket to keep cash and cards safe and handy and White Collar Grime adhesive interior hat protectors to save your hat from makeup, sweat and grease.
Find the Fashion First Aid kit at the Peacock Boutique at 2828 Frankfort Avenue in Louisville, KY or by visiting http://www.FashionFirstAid.com. Come May 3 you can also find founder and fashion malfunction expert Kim Castellano at Churchill Downs giving free Fashion First Aid fixes to those most in need of a rescue.
About Fashion First Aid
Fashion First Aid (Solutions That Stick Inc.) invents and manufactures both wacky and useful personal care products that you will never see someone else wearing, unless you take off his/her clothes. Recently relocated from Southern California to Idaho, we began in 1999 with one product, Garment Guard: disposable underarm shields (because the founder was a broke law student who was tired of her expensive white t-shirts getting ruined by underarm taco stains.) Now, with over 45 products on the market, over 10 in the works, and a light and upbeat book entitled The Dirty Side of Fashion, the corporate mission is still to save the world from fashion and beauty disasters and help make clothes last longer.