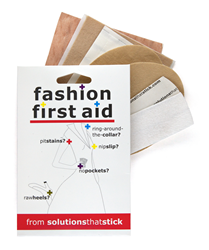 New York is a city of great fashion—and greater fashion disasters.
New York, NY (PRWEB) August 29, 2014
Fashion First Aid, an industry favorite, will be on hand during New York Fashion Week to save fashionistas and stylists from fashion disasters with three special kits. Available at the fashionista's favorite stop, Manhattan Wardrobe Supply, individuals will be able to purchase the new School of Style Stylists Kit, the purse-size Fashion First Aid Kit and the full-size Fashion First Aid Kit beginning September 5th, 2014.
The new special edition School of Style Kit has been curated in partnership with stylist Lauren Messiah, and contains everything that a stylist would need in a fashion emergency. Amongst the contents are a lint roller, stain remover sponges and bra strap holders.
The Fashion First Aid purse-sized kit contains many of the brand's best-selling products including Garment Guard to hide sweat, Wundercover to protect blisters and Quick Fix Sticks to remedy ripped hems and gapes. This kit fits discreetly in a clutch purse so you don't have to worry whilst out on the town.
The full-size Fashion First Aid Kit has seven wardrobe malfunction aids, including Pocksie instant pockets and Strap Trap racerback bra clips, and is ready to tackle any stain, breakage or emergency.
The three kits are used and endorsed by fashion influencers, and can help anyone from a professional stylist to a fashion addict quickly fix any fashion emergency and look pulled together on the worst of days.
All kits will be available to purchase at Manhattan Wardrobe Supply throughout Fashion Week, September 4-11, 2014. For further information or to view Fashion First Aid's complete assortment of 45 different fashion solutions, please visit http://www.fashionfirstaid.com.
Fashion First Aid (Solutions That Stick Inc.) invents and manufactures both wacky and useful personal care products that you will never see someone else wearing, unless you take off his/her clothes. Recently relocated from Southern California to Idaho, we began in 1999 with one product, Garment Guard: disposable underarm shields (because the founder was a broke law student who was tired of her expensive white t-shirts getting ruined by underarm taco stains.) Now, with over 45 products on the market, over 10 in the works, and a light and upbeat book entitled The Dirty Side of Fashion, the corporate mission is still to save the world from beauty and fashion disasters and help make clothes last longer.