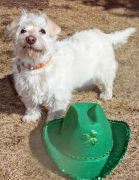 It's important to give back your local community, so Fashion First Aid is donating 1% to puppies at the Animal Shelter of the Wood River Valley and helping pets find forever homes
Ketchum, ID (PRWEB) March 13, 2014
Fashion First Aid believes that companies should give back and give locally, which is why they are now donating 1% of sales (not profits) to the Animal Shelter of the Wood River Valley, so their customers can feel good knowing that the goods they purchase are directly funding the operating expenses of the no-kill shelter.
In addition, they are providing pet food for families who have fallen on hard times as well as spaying & neutering animals in neighboring communities. Also, Fashion First Aid features the shelter's Pet of the Week on their Facebook page, just in case their fans are looking for the newest fuzzy member of the family.
And although Schooner the Dog is their office companion, the company isn't completely breedist- they support kitties, too.
The Animal Shelter of the Wood River Valley, the first no kill shelter in Idaho, promotes companion animal welfare by providing temporary shelter for homeless animals, adopting them to qualified homes and reducing animal abuse, neglect and overpopulation through community education and spay/neuter services.
Fashion First Aid (Solutions That Stick Inc.) invents and manufactures both wacky and useful personal care products that you will never see someone else wearing, unless you take off his/her clothes. Based in Ketchum, ID, founder and chief inventor Kim Leone Olenicoff Castellano began in 1999 with one product, Garment Guard: disposable underarm shields (because she was a broke law student who was tired of her expensive white t-shirts getting ruined by underarm taco stains.) Now, with over 40 products on the market, over 10 in the works, and a light and upbeat book entitled The Dirty Side of Fashion, the corporate mission is still to save the world from fashion emergencies and help make clothes last longer.