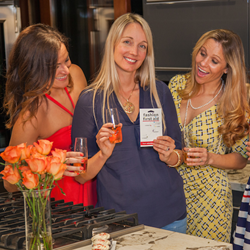 When women see these products in use, aha! moments happen over and over again.
Ketchum, Idaho (PRWEB) June 30, 2014
For the vast majority of normal women who do not have personal stylists, how is one supposed to know that there are inexpensive cotton stickers that prevent sweat stains from showing and ruining silk tops, white shirts, and black blazers? Who informs women that a bra extender is a cheap way to get longer life out of bras when you are pregnant, gain weight, or are just in-between sizes? Besides TSA agents passing out when passengers remove their flats at the airport checkpoint, how are women supposed to know that there are thin carbon odor neutralizers ready to stick in shoes? The answers come from Solutionistas: mavens of fashion fix-its from Fashion First Aid.
After 15 years as a traditional company, inventing and manufacturing products, selling to wholesalers and to some retail customers on its own website, Fashion First Aid decided that there had to be a better way to spread the word about their helpful products. The solution-focused products do their magic underneath clothes, which presents a real marketing challenge since people say "Cute purse! Where'd you get it?" and never "Fresh pits! How come you're not sweaty?"
After hearing Fashion First Aid Founder and Chief Inventor, Kim Leone Castellano, mention something about their best-selling fart pad, Subtle Butt, on a plane ride, a complete stranger asked a few more questions and convinced Kim that these products should be sold woman-to-woman. "Every product requires demonstration. When women see these products in use, aha! moments happen over and over again. Women ask why they didn't know these products were on the market." says Kim Castellano. And that is why we are offering women the chance to become Solutionistas and earn an income by sharing these useful items with others.
Having just launched this opportunity, women can sign up online and purchase a starter kit of products from $159. Solutionistas earn money immediately by selling the products in person and by referring online sales. Training and business materials are included for free. For more information, visit http://FashionFirstAid.com.
Fashion First Aid (Solutions That Stick Inc.) invents and manufactures both wacky and useful personal care products that you will never see someone else wearing, unless you take off his/her clothes. The company began in 1999 with one product, Garment Guard: disposable underarm shields (because the founder was a broke law student who was tired of her expensive white t-shirts getting ruined by underarm taco stains). Now, with over 45 products on the market, over 10 in the works, and a light and upbeat book entitled, The Dirty Side of Fashion, the corporate mission is still to save the world from beauty and fashion disasters, and help make clothes last longer.