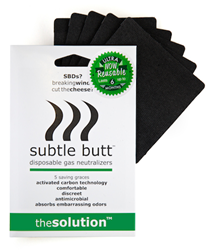 Ketchum, ID (PRWEB) August 20, 2014
For the extremely flatulent but cost conscious consumer, Fashion First Aid introduces Subtle Butt Ultra: reusable gas neutralizers. Truly the gift that keeps giving, Subtle Butt disposable gas neutralizers are Fashion First Aid's best-selling odor absorbing fart pads, which have been given more than 100,000 times as gag gifts and have grown a large and dedicated following of extremely considerate daily users. Many of these users have been asking for a cost-effective, reusable version of the non-washable material and adhesive and now it is available for purchase at http://www.FashionFirstAid.com.
Leveraging the same activated carbon technology of its predecessor, Subtle Butt Ultra features an extremely high concentration of soft fabric-covered antimicrobial activated carbon designed for up to 6 months of use. Equipped with a sheet of adhesive strips for attaching it to underwear, this small but adequate 3.25" square works best affixed to the outside of underwear to ensure nothing escapes passing through its filter. For best storage between uses it can be kept inside its included sealed bag, which will help maximize its lifespan.
Fashion First Aid's assortment of smell protectors and odor preventers also includes What the Smell: wearable odor filters to provide visible protection from the scent of dive bars, doggie duty, airplanes, diapers, buffets, close-talkers and other people in general. The brand's popular Flatliners: footwear odor killers are an essential for preventing and fixing stinky shoes. Both products also utilize the brand's popular activated carbon technology and all of them retail from $8.95 to $19.95 on http://FashionFirstAid.com and Amazon.com.
Fashion First Aid (Solutions That Stick Inc.) invents and manufactures both wacky and useful personal care products that you will never see someone else wearing, unless you take off his/her clothes. Recently relocated from Southern California to Idaho, we began in 1999 with one product, Garment Guard: disposable underarm shields (because the founder was a broke law student who was tired of her expensive white t-shirts getting ruined by underarm taco stains.) Now, with over 45 products on the market, over 10 in the works, and a light and upbeat book entitled The Dirty Side of Fashion, the corporate mission is still to save the world from beauty and fashion disasters and help make clothes last longer.