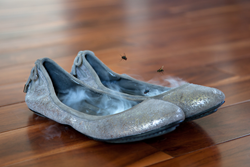 Summer is hard on shoes, why not take Fashion First Aid's free advice on summer-proofing shoes and feet.
Ketchum, ID (PRWEB) July 31, 2014
Summer can be a surprisingly rough season on shoes: humid temperatures, long walks, outdoor festivals and vacation travel. Fashion First Aid's extensive assortment of shoe saviors is here to help keep both feet and shoes looking, smelling and feeling great. And Fashion First Aid is offering free summer-proofing shoe consultations on their weekly podcast, Taboo Topics, which is live Tuesdays at 10AM PT and via web submission on HonestKim.com.
Some summer-proofing solutions include:
For those days when work runs into the evening hour, Fashion First Aid's Sole Glow instant clean and shine sponge is a purse-sized shoe sponge that can be rubbed on leather shoes, belts or purses to provide a 20-second clean and shine. Packaged in a screw-shut case, this lightweight solution easily fits inside any handbag and avoids the mess of carrying around traditional shoe polish.
Fashion First Aid's Ped Pens are the perfect solution for stylish stilettos and summer sandals that frequently get scuffed. These shoe touch-up markers make it easy to instantly touch up scratches with a simple shoe-friendly felt tip pen that is available in dark brown, medium brown and brown/black. Equipped with both a narrow and medium size felt tip, Ped Pens work just like a normal pen to color in heels and scuffs.
Long hours walking outside in humidity or attending outdoor festivals can result in painful blisters and sore feet. Fashion First Aid's Belle of the Ball, ball of the foot gel cushions provide comfort and relief from foot fatigue. Made of high quality polyurethane gel, these foot cushions are long lasting and do not absorb bacteria or odors. Unlike foam they provide support without taking up too much space in shoes.
To both camouflage and prevent painful blisters, Fashion First Aid's Wundercover tattoo and skin shields feature a chameleon fabric that sticks directly to skin and blends with most skin tones. Flatliners odor killers stick inside flats and espadrilles to neutralize foot odor and shoe odor. For those looking for an all-in-one solution to their summer shoe and foot care needs, Fashion First Aid's Shoe Done It kit includes eight best-selling solutions to protect soles, kill odors, revive worn shoes, and generally repair shoe wear of all types.
Fashion First Aid (Solutions That Stick Inc.) invents and manufactures both wacky and useful personal care products that you will never see someone else wearing, unless you take off his/her clothes. Recently relocated from Southern California to Idaho, we began in 1999 with one product, Garment Guard: disposable underarm shields (because the founder was a broke law student who was tired of her expensive white t-shirts getting ruined by underarm taco stains.) Now, with over 45 products on the market, over 10 in the works, and a light and upbeat book entitled The Dirty Side of Fashion, the corporate mission is still to save the world from beauty and fashion disasters and help make clothes last longer.