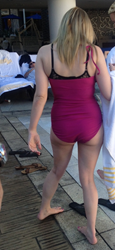 These products prevent the biggest swimsuit faux pas: wedgies, saggy breasts, nip slips, and downstairs perspiration.
Laguna Beach, CA (PRWEB) April 17, 2014
The arrival of warmer weather means donning bathing suits, which sends a wave of dread over many women. Fashion First Aid wants to stop the swimsuit hyperventilation by arming these women with stylists tips and tools to look and feel better in swimwear. Because no one out there likes wedgies, nip slips and other swimsuit wardrobe malfunctions.
First, find the perfect swimsuit for your body type. There are plenty of options these days from lots of coverage to barely there. Next, if this past winter didn't allow any sun exposure, use self tanner, and definitely exfoliate and moisturize before sun exposure. Keeping hydrated and avoiding food and beverages that tend to cause bloating are a must. Finally, do at least a 30 minute workout just beforehand to look fit and toned.
Fashion First Aid comes to the rescue of women who want better boobs but think there is no room for helper products in swimwear. Silicone Fullcuptous are waterproof inserts that add a cup in both bras and bathers alike. The heavier-breasted and women who are losing to gravity will want to stock up on The Perk Up, which are clear waterproof stickers that tape breasts higher and stay put until removal. Silicone reusable Nipplomats help with discretion in sheer or flimsy tops, and Quick Fix Sticks help affix tops in place to avoid the dreaded nip slip or attach bottoms in place to prevent wedgies. Knicker Sticker is a cotton-heart nether region protector from downstairs perspiration, bodily secretions and even camel toe, which can cause embarrassment with sun bathers.
These products range from $8.95 to $29.95 and are available at FashionFirstAid.com and on Amazon.com.
Fashion First Aid (Solutions That Stick Inc.) invents and manufactures both wacky and useful personal care products that you will never see someone else wearing, unless you take off his/her clothes. Recently relocated from Southern California to Idaho, we began in 1999 with one product, Garment Guard: disposable underarm shields (because the founder was a broke law student who was tired of her expensive white t-shirts getting ruined by underarm taco stains.) Now, with over 45 products on the market, over 10 in the works, and a light and upbeat book entitled The Dirty Side of Fashion, the corporate mission is still to save the world from fashion and beauty disasters and help make clothes last longer.