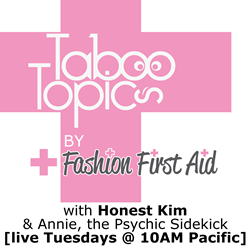 Lady Crust, I think, is a pretty nice euphemism.
Ketchum, ID (PRWEB) March 14, 2014
Fashion First Aid's Honest Kim & Annie the Psychic Sidekick take on the topics that no one else wants to talk about. In the Taboo Topics Podcast, they tackle personal grooming, "package" size, personal massagers, stinky smells and more. There are no limits.
Honest Kim and her Psychic Sidekick bring in guest experts to weigh in on these taboo topics and encourage followers to join the conversation in its Q&A portion of the podcast. Each podcast is finished with a light and upbeat psychic prediction from Annie, the Psychic Sidekick.
Taboo Topics by Fashion First Aid, airs every Tuesday at 10am PST live on YouTube: http://www.youtube.com/user/SolutionsThatStick and listen to the recorded podcasts on HonestKim.com.
Topics covered thus far:
Farts
Boobs: does size really matter?
"Personal" odor
Let's talk about sweat
How to break up with someone
Male parts: does size really matter?
Nipples & wardrobe malfunctions
Male and female landscaping
Future Taboo Topics:
Pleather vs. leather, 3/18/14
Weird smells, 3/25/14
Pranks, 4/1/14
Blisters, 4/8/14
Fashion First Aid (Solutions That Stick Inc.) invents and manufactures both wacky and useful personal care products that you will never see someone else wearing, unless you take off his/her clothes. Based in Ketchum, ID, founder and chief inventor Kim Leone Olenicoff Castellano began in 1999 with one product, Garment Guard: disposable underarm shields (because she was a broke law student who was tired of her expensive white t-shirts getting ruined by underarm taco stains.) Now, with over 40 products on the market, over 10 in the works, and a light and upbeat book entitled The Dirty Side of Fashion, the corporate mission is still to save the world from fashion emergencies and help make clothes last longer.