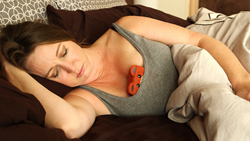 Ketchum, ID (PRWEB) October 30, 2014
Between crinkled cleavage, baggy bosoms, and nighttime boob sweat, breasts at night are no delight. They can flop over creating skin on skin sweat. They can rest in strange places causing embarrassing and unsightly morning breast wrinkles that take longer and longer to disappear as women age. But there is no need to toss out t-shirts and order turtlenecks. Just get a new bed buddy: Titty Bear!
Besides being the perfect non-snoring sleep companion, Titty Bear loves to cuddle up right inside a bosom, keeping breasts separate and in place while side sleeping. The soft, breathable cotton cover is comfortable against the skin and doesn't cause sweating. The secret is the ergonomically shaped memory foam filling that keeps breasts in place, avoiding the dreaded MBW (morning breast wrinkles).
Adorable Titty Bear would never raise suspicion while sitting out and is easy to wash with its removable cotton cover. Titty Bear stands at 6.5 x 3 x 2" and retails for $19.95 starting 15 November on FashionFirstAid.com and on Amazon.com
Fashion First Aid (Solutions That Stick Inc.) invents and manufactures both wacky and useful personal care products that you will never see someone else wearing, unless you take off his/her clothes. Recently relocated from Southern California to Idaho, we began in 1999 with one product, Garment Guard: disposable underarm shields (because the founder was a broke law student who was tired of her expensive white t-shirts getting ruined by underarm taco stains.) Now, with almost 50 products on the market, 10 in the works, and a light and upbeat book entitled The Dirty Side of Fashion, the corporate mission is still to save the world from beauty and fashion disasters and help make clothes last longer.