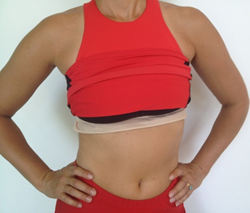 Yes, everyone sweats. But nobody wants to see boob sweat- on women or men.
Ketchum, ID (PRWEB) September 29, 2014
Fashion First Aid, the company behind more than 45 solutions to common beauty and fashion disasters, is pleased to introduce Underboob Breast Sweat Absorbers and begin shipping today. Sweat is embarrassing no matter where and when it happens, but boob sweat marks can be particularly uncomfortable. Available for purchase at $9.95 starting today, Fashion First Aid's Underboob Breast Sweat Absorbers make embarrassing breast sweat stains a thing of the past.
"Yes, everyone sweats. But nobody wants to see boob sweat, which for some reason is much more embarrassing than armpit sweat stains, especially in mixed company. I invented Underboob because I was personally sick of this problem and wanted to find an easy, discrete and comfortable solution," said Kim Castellano, aka Honest Kim, Founder and Chief Inventor of Fashion First Aid.
Featuring a simple and adjustable elastic strap, which fastens under the bustline, Underboob contains a cotton moisture-absorbing panel with a barrier panel over it. Different from other breast sweat absorbers on the market that are built into bras, Underboob is designed to be worn with any kind bra and can also be used without one, which is a bonus for men. Available in beige, Underboob fits sizes 28-38 and is conveniently designed to be used with workout clothes as well.
Fashion First Aid (Solutions That Stick Inc.) invents and manufactures both wacky and useful personal care products that you will never see someone else wearing, unless you take off his/her clothes. Recently relocated from Southern California to Idaho, we began in 1999 with one product, Garment Guard: disposable underarm shields (because the founder was a broke law student who was tired of her expensive white t-shirts getting ruined by underarm taco stains.) Now, with over 45 products on the market, over 10 in the works, and a light and upbeat book entitled The Dirty Side of Fashion, the corporate mission is still to save the world from beauty and fashion disasters and help make clothes last longer.