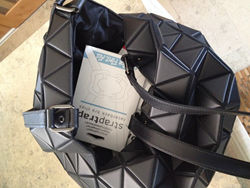 Bare shoulders are much prettier than bra-strapped shoulders, especially if the bra is ugly and average.
Laguna Beach, CA (PRWEB) August 22, 2014
Wayward bra straps should beware: Kim Castellano (aka Honest Kim), Founder of Fashion First Aid has a vendetta to make them a thing of the past. Over the next month, Honest Kim will begin a tour that will take her from Las Vegas to Laguna Beach, Cabo San Lucas and New York City as she seeks out one of fashion's biggest faux pas - visible bra straps. Castellano will provide free Fashion First Aid support to those in need, giving samples of her best-selling Strap Trap away at all locations.
A simple way to hide visible bra straps when wearing racerback tanks or sleeveless tops, Strap Trap bra strap holders stay exactly where they are placed.
"Strap Trap is comfortable and takes 30 seconds to attach, so why wouldn't you use it to make bra straps disappear? Bare shoulders are much prettier than bra-strapped shoulders, especially if the bra is ugly and average. We never see a celebrity on the red carpet with bra straps showing, and I'm on a mission to make sure this is reflected in everyday life," said Kim Castellano, Founder of Fashion First Aid.
In addition to Strap Trap, Kim will be prepared to supply Fashion First Aid's Quick Fix Sticks and Clearly Gone, two of the brand's lingerie solutions that aid when lingerie wardrobe malfunctions appear.
Honest Kim will be in Las Vegas, NV from August 16-21, Laguna Beach, CA from August 21-27, Cabo San Lucas, Mexico from August 28-September 2, and New York City from September 4-9.
Fashion First Aid (Solutions That Stick Inc.) invents and manufactures both wacky and useful personal care products that you will never see someone else wearing, unless you take off his/her clothes. Recently relocated from Southern California to Idaho, we began in 1999 with one product, Garment Guard: disposable underarm shields (because the founder was a broke law student who was tired of her expensive white t-shirts getting ruined by underarm taco stains.) Now, with over 45 products on the market, over 10 in the works, and a light and upbeat book entitled The Dirty Side of Fashion, the corporate mission is still to save the world from beauty and fashion disasters and help make clothes last longer.