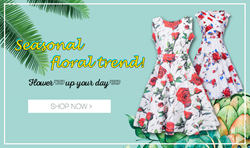 Fashionmia Introduces New Line Of Dresses For Women
(PRWEB) April 26, 2017
FashionMia is an online, fashion forward, irresistible and affordable store for women clothing. The company has recently introduced a new dedicated line of dresses for women. Owners of the online store have long seen and heard the frustrations of the curvy woman not being able to find fashionable looks for a fuller figure. The company seeks to create a store where the curvy fashionista can find the most up-to-date fashion trends.
FashionMia has thrilled to announce new elegant dresses for women in all sizes and prices ranging from US$10 to US$40. Their new specialty, Skater dresses are reminiscent of the babydoll dresses of the 90s and ice dance costumes. Check out how global fashionistas are wearing the skater dress in 2017. Their dresses are the definition of edgy style on a budget.
The cut of the dresses is perfect for just about any body shape. So it is hard to hate something that's amazing. If someone is apple-shaped, she can rock the trend. If she is pear-shaped, she too can look good in the dress. The company wants to encourage women, no matter the shape or size, to be comfortable and confident in their own skin. Furthermore, the company hopes to create a shift in the fashion industry — a shift to offering everyone more options — so that all women will be able to wear the types of fashion seen in magazines.
The founders of the Company expect unprecedented access to stunning ready-to-wear dresses. They affirm that their store is filled with the season's hottest trends. One can shop a complete outfit with just a few clicks, as FashionMia offers the following categories for people's shopping pleasure.

New In- The latest and greatest in this season's trends.
Top Sellers- Today's most popular and classic pieces that will never go out of style.
Dresses- Formal, casual, and everything in between.
Tops- Everything from basic pieces to blouses.
Bottoms- Pants, shorts, leggings, skirts and more.
Accessories- Everything one needs to dress up (or undress) your outfit.
Plus Sizes- A curvaceous collection of fashionable styles.
Outerwear- The best way to bundle up.
Make every season a fashion statement by filling your cart with their high-quality fashion finds. Happy shopping.
To learn more about FashionMia, please email them at service(at)fashionmia(dot)com, or visit the website at http://www.fashionmia.com.