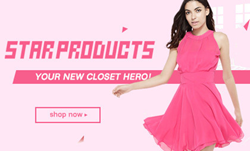 FashionMia Rolls out New Line of Dresses for Women
Hong Kong (PRWEB) March 13, 2017
When it comes to fashion e-commerce FashionMia is a name that is known to be trusted. The company offers the latest in fashions from around the world in one stop. On top of stocking the styles that customers want FashionMia also offers industry leading prices. FashionMia being a global brand understands different regions have different income levels and offers prices to fit the needs of all shoppers. This incredibly low pricing policy has made FashionMia a fan favorite around the world. Customers never have to worry about product quality when shopping with FashionMia as the company holds manufacturers to strict policy in producing high-quality products for sale and will do thorough checking for defects before a product is placed for shipment. Prices, quality, and commitment to the latest fashions and styles have made FashionMia an industry leader in fashion e-commerce. Today the company is proud to announce more dresses for women which will be great for any occasion during the warmer spring weather!
Warmer weather means more time outside, attending events, and in the public eye, FashionMia looks to make Spring 2017 a memorable one with its nice line of dresses for women. The company has spent the last several months designing new products based on projected fashion trends. The new line of dresses offers everything from maxi, bodycon, skater, vintage, shift, evening, and cocktail dresses. Along with multiple styles, there are multiple colors, patterns, and fabrics to choose from, giving customers the ultimate experience in finding the perfect dress for themselves. FashionMia looks to provide all women with dresses and is committed to carrying multiple sizes of each dress; this includes XL variants. The company currently stocks over 3800 dresses and the inventory keeps growing.
FashionMia has worked extensively on producing its Spring 2017 line of dresses and is confident that customers will find something that meets their style needs. Customers needing help with any aspect of the shopping experience are welcome to contact FashionMia today, customer service agents are trained to help with multiple types of problems and can even help with sizing! Customers are encouraged to hop onto FashionMia now and check out all the great deals on the new line women's clothing online!