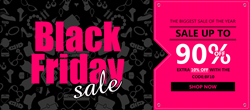 FashionMia announces Holiday Sale.
Hong Kong, China (PRWEB) November 16, 2016
FashionMia is a fashion e-commerce site designed for modern day trendsetters. The site focuses on providing modern fashions in both apparel and accessories for women. FashionMia houses a large inventory of products that are carefully selected by experienced fashion designers. The company has built a reputation of being known as a low cost fashion provider with premium products. The company works extensively to secure products at affordable rates from manufacturers and passes these prices down to customers. On top of this, all products must meet strict quality control checks before being approved to be sold on the site. FashionMia understands that prices can still become lower and likes to give customers this through sales. With Christmas fast approaching, FashionMia is proud to announce its upcoming Black Friday sale. This sale will see products at the lowest prices of the season, marked to as low as 20% off. This will be a great time for customers to get their Christmas shopping done or just buy new fashions for themselves.
Black Friday is one of the biggest shopping days of the year and is known for having the cheapest prices on the most sought after and major products. In physical stores, this can create a problem as people will line up for hours and then begin to push and shove once the stores do open. Often, customers will be left disappointed because products will sell out fast and they cannot get all that they want. FashionMia looks to mediate this issue with their online event. FashionMia is putting all its products on sale from November 25 to November 27 to commemorate its own holiday sale. With everything being sold online, there will be no exhausting wait times, pushing matches, or exhausting found like shopping in physical stores. All products, including women's dresses will be on sale during the holiday day sale and will be on marked down up to 20% off the normal retail price.
New and old customers looking for the latest fashion clothing are encouraged to shop at the FashionMia holiday sale event. The prices reflected during this sale will be the lowest of the year.
Related link:
http://www.fashionmia.com/
http://www.fashionmia.com/dresses-53/