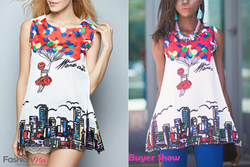 New plus size dress collection to bring wider choices to women around the world.
Hong Kong, China (PRWEB) October 02, 2016
Around the world customers are raving about FashionMia. The company is a premier service focusing on selling the latest fashion trends. FashionMia has been able to grow a huge following over the years thanks to its effective pricing policy. The company works with the largest and most powerful manufacturers in the world to bring affordable prices on high quality products. FashionMia executives understand that the company's success is a direct result of customer support and is working round the clock to cater to even more individuals. Today the company is proud to announce that they are introducing a new line of plus sized fashion, specifically in the form of dresses. This new women's dresses online category will make FashionMia more inclusive to customers of all body types.
FashionMia does not discriminate customers based off their size, the company has been working around the clock to get more products available for smaller and larger women. Today the company is proud to announce new plus sized dresses. The new dresses are almost always an appropriate fashion choice, be it for a casual or formal event. FashionMia understands the versatility of dresses and now has a variety of dresses available in plus size. The dresses sold for plus sized women are the same as those sold for other size women. They use the same high quality material, and will cost the same amount. Categories of plus sized dresses include Bodycon, Shift, Flared, Midi, and Maxi Dresses. New dress categories like skater, evening, cocktail, and evening dresses will be added soon. New products are being added daily and customers are encouraged to keep checking back to see all the new inventory.
Dresses are not the only items in for plus sized women, FashionMia is currently working to add more categories to the plus sized section. On top of women dresses online FashionMia also sells plus sized tops. The company is looking to expand to bottoms and outerwear shortly and is currently working deals with manufacturers to secure affordable prices.
New sizes are just the start at FashionMia, the company looks to bring more exciting changes and add-ons to the website soon. Customers are encouraged to keep checking back for the latest updates and news!
To find more about fashion clothing, please visit http://www.fashionmia.com/.